The world is a weird and wonderful place and contains many bizarre sights and attractions to visit.
Here we feature the Museum of the Bizarre in Wilmington, North Carolina, with its many odd exhibits, an unusual airship mounted on top of a Prague museum, knitted animals and other shapes in an Irish wood, the largest prawn in the world and an unusual zodiac mosaic in an ancient synagogue in Israel.
1
Museum of the Bizarre - 201 S Water St., Wilmington, North Carolina, United States
Visitors are greeted by a life-size Pinhead on entering the museum, which was created when curator Justin LaNasa got married and need to find a place to store his many macabre oddities. There's also a life-size Freddy to take selfies with, a crystal skull, Harry Houdini's Ouija board, a 150-year-old witch's cauldron and a two-headed calf among other fascinating and bizarre objects. Their slogan is "Of course it's real," but there are some questionable objects too.
2
Gulliver Airship - 1 Poupětova, Prague, Czech Republic
The Gulliver Airship looks like it crash landed on top of a Prague museum. It looks precariously perched across two buildings. However the airship, constructed of wood and steel, is not really an airship at all. It's a space for reading books or discussing literature and was built by the DOX museum to encourage people to think critically about social issues. The airship measures almost 140 ft in length and adds a contrast to the museum building below.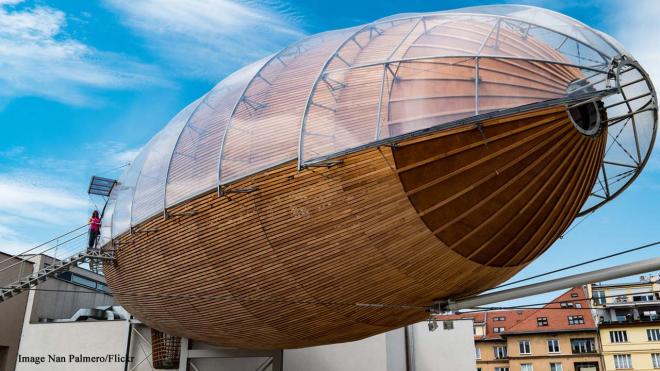 © ALL RIGHTS RESERVED