With its stark, volcanic scenery, Lanzarote has a different kind of beauty. The island is one of Spain's Canary Islands and sits off the coast of West Africa. Lanzarote is famous for its year-round warm climate, beaches and landscapes. There are several beach resorts around the island and many attractions related to the volcanic nature of the island.
Here we visit El Diablo, a restaurant that uses a dormant volcano to cook food. We also visit a nightclub, restaurant, bar and pool inside a volcanic tube, a Mars-like landscape that inspired NASA to use it to train their astronauts, a bright green lagoon and the home of famous Spanish artist César Manrique, built into lava bubbles on the island.
1
El Diablo Restaurant – Lanzarote
Anyone who enjoys a good barbecue will appreciate El Diablo. The restaurant is built over a natural heat source – a volcano. A giant grill has been placed over the opening to the volcano, just six feet above the bubbling lava, which they say is 400 degrees Celsius, or 752 degrees Fahrenheit and is the ideal temperature for grilling meat. The volcano has been dormant since 1824, so hopefully a meal at El Diablo will go by with nothing going wrong!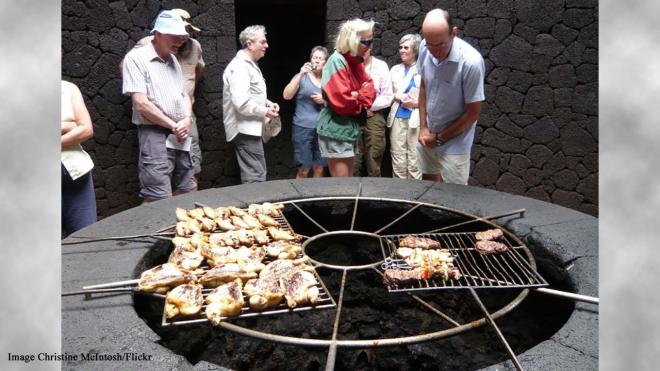 2
Los Jameos del Agua - Lanzarote
"Los Jameos del Agua" was created in a collapsed section of a volcanic tube and is reportedly the largest submerged volcanic tunnel in the world. Spanish artist César Manrique turned it into a nightclub and underground pool in the 1960s. There is even a concert hall and restaurant and bar built into the tunnel. The cave system displays stalactites and stalagmites and is home to a unique species of blind white crab that have adapted to the tunnel's darkness.
© ALL RIGHTS RESERVED