5 weird and wonderful attractions in Berlin, Germany
Berlin has many museums and art galleries to visit, but the city also has a weird, scary and fascinating side including monsters and eerie ruins.
Berlin, Germany is a fascinating city, with many museums and art galleries to visit. However, the city also has a stranger side [VIDEO], with several very unusual and often weird attractions [VIDEO] to visit.
Get a little scared while exploring the Monster Kabinett and the eerie Design Panoptikum. Go down under Berlin to explore its wartime underworld. Explore a ruined children's hospital or view an unusual art installation. The choice is yours!
1
Monster Kabinett, Rosenthaler Straße 39, Berlin
Monster Kabinett lives up to its name and displays strange and huge robotic creatures, insect-like animals, clanking metal sculptures and things that go bump in the night. The museum is the brainchild of the Dead Pigeon Collective, a group of artists. Along with the strange art, costumed people put on a scary show from Wednesdays to Saturday. While it is safe to visit, the intention of the artists is to inspire fear and dread in their visitors.
2
Berliner Unterwelten (Berlin Underworld), 105 Brunnenstraße, Berlin, Germany
A visit to Berlin's underworld is a strange and unsettling experience, where visitors enter a dark bunker and explore stairways and rubble taking them down under the ground. Take a tour to visit an air raid bunker, abandoned subway stations and tunnels used in World War II to smuggle people out of East Germany. There are four floors, where bomb and ammunition storage and a pneumatic postal system can be viewed.
3
Design Panoptikum, Poststrasse 7, Berlin, Germany
As noted by Atlas Obscura, Design Panoptikum is a museum of extraordinary objects with a bizarre pairing of retro-tech, medical equipment and body parts. The museum describes it as a "space carnival atmosphere" with mechanical monsters and what looks like people, put together using spare parts. The exhibits are surrounded by bizarre lamps and furnishings, designed from aviation, the medical field and the film industry. The result is pure imagination with a touch of horror.
4
Weissensee Abandoned Children's Hospital, Hansastraße 180, Berlin, Germany
Abandoned Berlin calls this a "zombie hospital," but you are unlikely to meet the walking dead here. Weissensee Abandoned Children's Hospital used to be a state-of-the-art medical facility during Germany's Imperial Era. It now stands abandoned, strewn with graffiti, in a street where it is surrounded by modern apartment buildings. Visitors are warned that the hospital is a well-known spot for homeless people looking for somewhere to sleep and the building is very old and hazardous to explore.
5
Die Rückkehr der Kühe (The Return of the Cows), Dietrich-Bonhoeffer Strasse 23, Berlin, Germany
In an otherwise ordinary street in Berlin, there is an extraordinary art installation. On the side of a pre-war Berlin apartment building, larger-than-life cows walk up and down a green field. Artist Sergej Dott created this unusual sight, which is one of what he terms "Kuhunst," a pun based on the German for art (Kunst) and the word for cow (Kuh).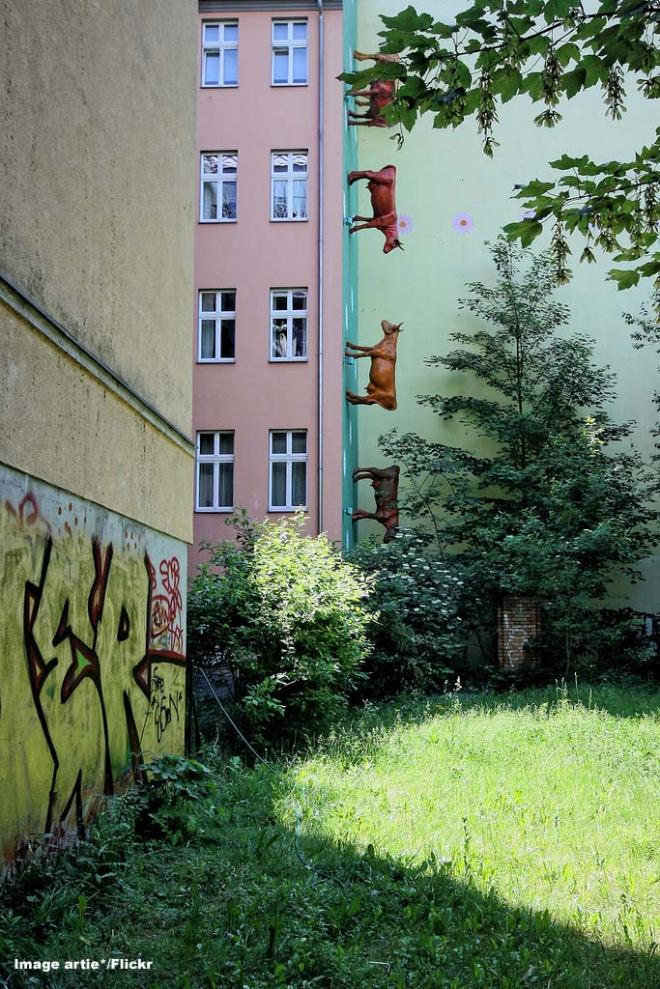 This news article has been verified through:
https://www.atlasobscura.com/places/design-panoptikum
https://www.abandonedberlin.com/2013/08/abandoned-childrens-hospital-zombies.html
Click to read more
and watch the video
or