EXO is back with Love Me Right
The kpop phenomenon , EXO is back with Love me right! And you can listen the song either in korean or chinese.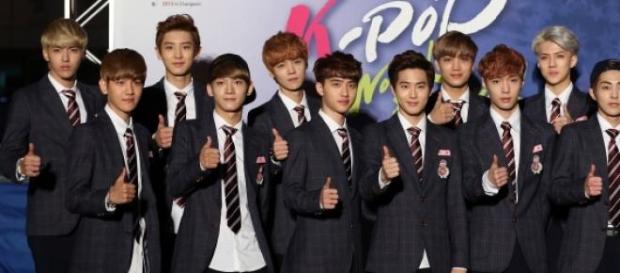 First of all if you haven't heard of EXO you should definitely check them out! EXO is a Chinese-South Korean boy band from Seoul, South Korea formed by SM Entertainment back in 2011. The group has an impressive number twelve members, but they are separated intro two subgroups, called EXO-K, the one performing in Korea and EXO-M, performing in China.
Since their debut, they made their fans wait a lot because the label released individual teasers for each member, which meant a lot of time waiting and waiting. The great success hit in 2013 with the album XOXO contained hits as Growl and the album won the award Album of the Year at the Mnet #Music Awards in 2013.
A few months ago, the charts exploded with their single: Call me baby! And now, they're back with the song: Love Me Right which already has a music video. The best part is that the songs has two versions, one in Korean and one in Chinese, so every fan could be pleased.
The music video presents the guys as American football players, but do not expect them to play. For the pleasure of the fans, we can see the guys in the locker room looking great in the equipment. Love me right is part of the repackage album with the same name, including additional songs as Tender Love, First Love and Promise. And judging by the names of the songs, these guys are in love. But not so much as the fans, because, well, the fans are going crazy for them! The music video has already more than 2 million views!
Love Me Right is perfect for this summer and be sure you check the music video, because these guys are known for the great choreography.
These days is a full period in Kpop industry. The kings of Kpop from BigBang are back, Shinee from the same label as EXO are back too and is rumored that another big boy group will make the comeback this summer, 2PM from JYP Entertainemnt. Even if EXO members don't have the same experience as other groups, their success is huge . Despite the scandals around their label and controversial contracts, it seems that the fans are really supportive. Sadly, not all the 12 members could be seen in the music video. In May 2014, member Kai filed a lawsit against SM Entertainment to be removed from the group. Then, in October 2014, member Luhan followed him, so EXO has only 10 members left. Again, just rumors, but it seems more members want to leave the group. SM Entertainment is known for making their artists work until they faint, but maybe that's the price of their success. EXO is a worldwide known boy band and even if they're not old in the industry, they've already made history (and they also have a song called History, how awesome is that?)
Check the music video of Love Me Right and help the guys from EXO to make even more views! Maybe, they could defeat Big Bang! It may sound like a fairytale, but do not ever underestimate EXO and their fan base. #Celebrities