Diego Costa and Conte clash - Chelsea striker out of Premier League game in Leicester City
Jorge Mendes, Costa's agent talks to China about Deigo after row with Conte results in him him left out of Saturday League clash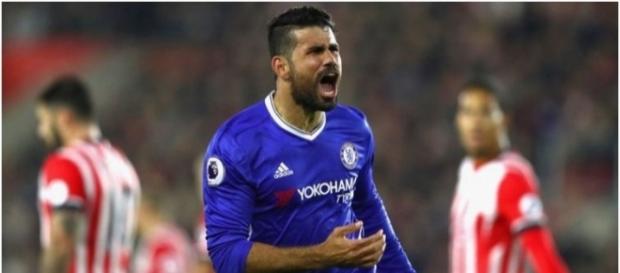 Diego Costa, #Chelsea's brilliant striker, and #Antonio Conte had a major clash over his fitness this past week.
The Spanish striker who has put 14 balls into the net for Chelsea in 19 Premier League games, was complaining of lower back problems according to the Daily Mail and wanted to rest this weekend.
It appears that Conte went with the assessment by Chelsea physios, who felt that was not a problem for the player. MailOnline ran an exclusive on the story that resulted in "blazing" hot arguments between Conte and Costa. Conte was so furious that he apparently shouted at Costa to "Go to China."
There are already rumours that Costa has been offered a fantastic salary to play for them, and in fact, it is reported that Jorge Mendes, Costa's agent is talking to China about the offer.
Whether Costa got his way over resting this weekend, or if Conte is just furious, the striker is out of the Premier League game in Leicester Saturday night.
Diego Costa apparently told to 'Go to China' in row with Conte over fitness
Diego Costa bust up at Chelsea ended with head coach Antonio Conte shouting at him: "Go to China!" #CFC

— Kaveh Solhekol (@SkyKaveh) January 13, 2017
Costa's China offer is not just flippant talk - Chelsea could lose the player
Agents in talks with China are not just rumour. Look at the photo below, to see Jorge Mendes meeting the chairman of the Tianjin Quanjin club.
🔄 | This picture of Tianjin Quanjin chairman Yuhui with superagent Jorge Mendes (Ronaldo, James,.. ) is getting a lot of attention. #CSL 🇨🇳 pic.twitter.com/mITVkpg0cW

— FCInsider (@followFCInsider) January 13, 2017
Chelsea had planned to offer Costa a new contract before the row
Chelsea had planned to offer Costa a new contract but after the row between Conte and Costa, the China deals might be looking mighty attractive to the footballer.
The Telegraph said that the deal could be as much as £576,923 a week which would make him one of the most highly paid footballers in the world. Throw in the £80 million transfer fee that Eurosport cited the Standard as saying was in the offing for Chelsea, and this is one very expensive footballer.
Diego Costa might jump at China offer says insider
Yannick Bolasie, the Everton winger, told ESPNfc that Diego would probably jump at the chance to play for China for that kind of money. He feels that Diego is unlikely to have "emotional ties to English football." Half way through the season, if he does not play, Chelsea could have a huge problem to find someone to fill Costa's footballing boots. Conte can play other players, but they simply don't have the same skills to fill those number 19 boots. Conte has been praised for his management, but let's face it, he too needs to calm down and recall that he is working for the club owners. Bear in mind that Costa is still under contract to Chelsea, and even an £80 million transfer fee will not compensate for the loss of Chelsea's goal scorer. #Deigo Costa