We elect Barack Obama for president - of France?
Could France ask Barack Obama to become president? Doubtful - but that's not stopping the Obama17 organizers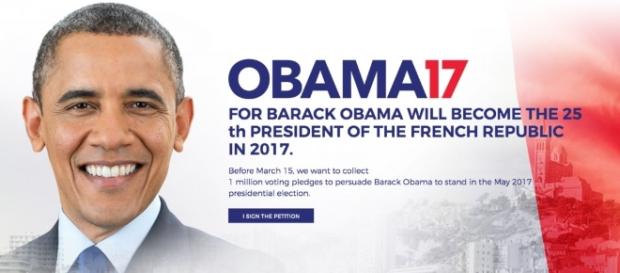 In France, the group of voters in the background of numerous scandals accompanying the presidential race made an unusual proposal - put forward the candidacy of #Barack Obama in the upcoming elections. More than 30 thousand French have signed a petition. Organizers said that in such way they will provide an alternative to voting for candidates.
The initiative group of French voters 'Obama17' launched a campaign invoking citizens to sign a petition in which they asked Barack Obama to become the candidate for the French presidency. Organizers of the project, who wished to remain anonymous, picked such a move because of the frustration with candidates, which is accompanied by a whole list of corruption scandals.
"It arose from a conversation with friends. We decided that we didn't want to vote for any of the candidates in this election and that it has been the same for the last few elections. We are fed up of voting against people rather than for someone we actually support every time. So we thought it would be ingenious to give the power to Obama since he's now available"- quoted the British newspaper "The Independent".
The power of Mass Media
Earlier, representatives of the French anti-corruption department questioned two staff members at the electoral headquarters of Marine Le Pen - the head of the party's office, Catherine Griset and bodyguard Thierry Lezhe. Before that case, the headquarters of the party "National Front" was inquired into. The reason for such actions from law enforcement bodies were French media reports about Le Pen who illegally got paid assistants from governmental funds of the European Union.
Relatively related charges by French media were put forward in relation to the wife of the candidate from the Republicans - Francois Fillon. The article publication "Le Canard Enchaine" claimed that the wife of the former prime minister for eight years - from 1992 to 2002 - received a salary from public funds as a dummy Assistant Member of Parliament and allegedly earned €500 thousand. After publication of this material, the French financial Prosecutor's Office initiated inspection and therefore the rating of Fillon fell abruptly.
The former US president himself, in turn, has denied all the accusations and called the incident "an attempt at an institutional coup."
The Website of the 'Obama17; campaign announces the imminent failure of the forthcoming elections and calls on voters to sign a petition to "cheer up" France. Despite the fact that the organizers have not announced their political preferences, they told the newspaper they just will not vote for #Marine Le Pen. The site says that Obama's resume is better for this position.
'It is ultimately a joke'
However, the project organizers themselves say that their idea does not have a very serious nature. "It is ultimately a joke. We want people to wake up in the morning and, rather than have to see our usual candidates, rejoice in seeing Obama's face on the 500 posters we put up on the streets of Paris, and get away from the repeated scandals we are hearing about..." - concluded the initiators of the campaign. #President Of France