5 unique destinations to visit in Portugal in 2019
A library patrolled by bats, a tower into the earth, a village among boulders, another under water and a famous sea cave.
Portugal is a fascinating and historic [VIDEO] country with many attractions, some of which are unusual and unique.
Here we explore [VIDEO] a library of ancient books, patrolled at night by bats, a tower which tunnels into the earth, the village of Monsanto, which has nothing to do with the controversial pesticide producer, a village built around in within boulders, a 2,000-year-old village drowned by an electricity company and a unique sea cave where occultist Aleister Crowley faked his own death.
1
Mafra Palace Library - Terreiro D. João V, Mafra, Portugal
The Palace of Mafra was completed in 1755 and is now a magnificent library, containing 36,000 books, dating from the 14th-19th centuries and bound in leather. What is unusual about the library is that the books are threatened by pests, so the library employs the services of a colony of inch-long bats to patrol at night. They happily munch the moths, bookworms and other insects that could destroy the books and sleep behind the bookshelves in the day.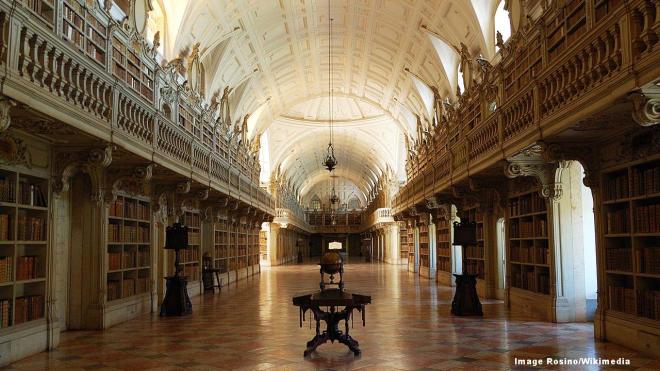 2
Quinta da Regaleira - Sintra, Portugal
This unusual palace was eccentrically designed by Carvalho Monteiro and is a UNESCO World Heritage Site. It contains a palace, gardens, underground tunnels, grottoes, fountains and caves. It was built between 1904 and 1910 and invokes feelings of Roman, Renaissance, Gothic and Manueline architectural styles. What are really fascinating are two initiation wells (pictured) that resemble reversed towers, lined with stairs and going down into the earth, and used for Tarot initiation rites.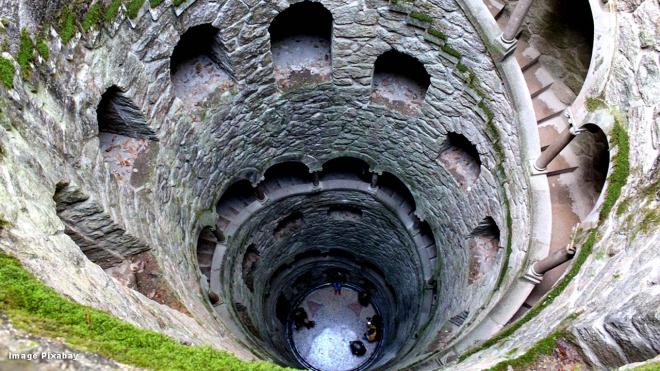 3
The village of Monsanto - Alcains, Portugal
The village of Monsanto is built among, and under, massive boulders and hangs over a mountaintop with beautiful views of the surrounding scenery. The location has been a strategic position since prehistoric times and the hill is crowned by the ruins of a Templar castle, partially destroyed in the 19th century. Strolling the narrow, cobblestone streets is fascinating, with its homes built into the rocky landscape, with doors into boulders.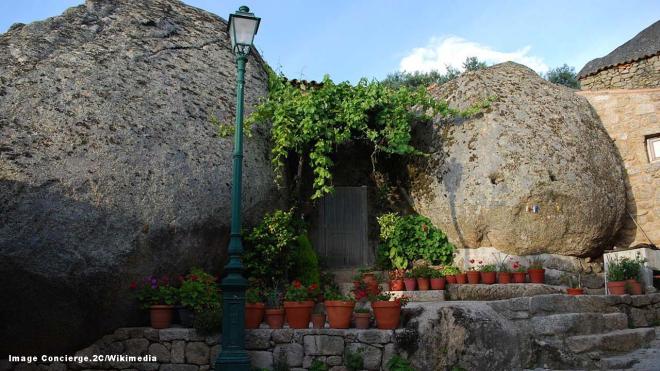 4
The submerged village of Vilarinho da Furna, Portugal
When the water level of the dam is low, it is possible to see the walls of a 2000-year-old village, which was destroyed by an electricity company. The last 300 residents had to leave their homes in 1971 to provide hydroelectricity to the region. It is believed the village was founded by the Romans in the 1st century and the village prospered all that time. Now a museum is dedicated to the lost village in São João do Campo nearby and visitors can explore the lost village on boat tours.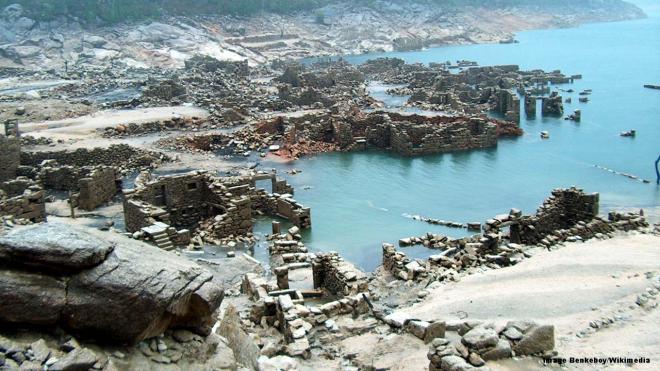 5
Boca do Inferno - Av. Rei Humberto II de Itália, Cascais, Portugal
Boca do Inferno (Mouth of Hell) is a sea cave in close to Cascais. It gets the name from the ocean waves which crash against the rocky cliff and splash out from an opening on the cliff top. It has been an attraction for centuries, but is best known for being the spot where magician, astrologer and occultist Aleister Crowley faked his own death in 1930. The idea was inspired by Greek philosopher Empedocles, who was said to have thrown himself into a volcano. Crowley reappeared three weeks later.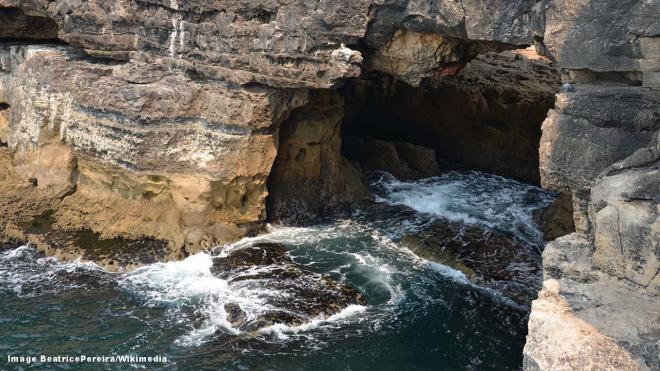 This news article has been verified through:
https://www.atlasobscura.com/places/mafra-palace-library-bats
http://www.regaleira.pt/en
Click to read more
and watch the video
or