St. Petersburg subway bombing: suspect hails 'from Kyrgyzstan'
Intelligence agents say suspect in yesterday's metro bombing was born in ex-Soviet republic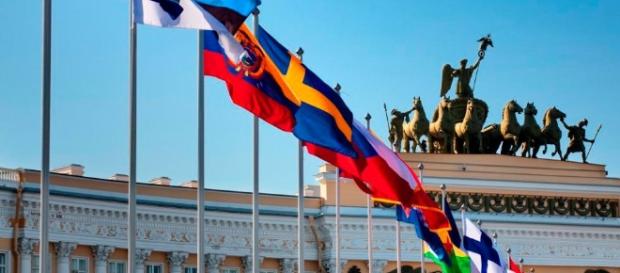 Kyrgyz intelligence agents are reporting that the prime suspect in the bombing attack on the St. Petersburg subway is a citizen of Russia who was born in Kyrgyzstan, a former Soviet republic. So, shady stuff. At least 11 people have been confirmed dead from the attack, with a further 40 wounded and in critical condition. There was a second bomb found at another metro station, which alarmed people to say the least, but luckily it could be defused before it was detonated.
Kyrgyz intelligence cooperating with Russian authorities
The state committee in charge of national security for Kyrgyzstan is working in conjunction with Russian intelligence authorities cooperatively in the investigation, willing to help in capturing the perpetrator of the bombing in any way they can.
Their top suspect at the moment is the aforementioned Russian citizen and Kyrgyz native, 22-year-old Akbarzhon Jalilov.
It is yet to be determined whether the bombing was a suicide attack or if the perpetrator managed to make it out in time after leaving the bomb on the train, since another one was found at that different station and no one was accompanying it. Russian news outlets are contradicting each other in the information they're reporting, leaving the truth pretty up in the air. They all cite sources close to the investigation, but they can't all be telling the truth because they conflict with one another.
Russian news reports came through that Jalilov, the prime suspect in the bombing, had spent six years living in Russia as a citizen but originated in the southern Kyrgyzstani city of Osh.
Hundreds of thousands of people from Central Asia move to Russia to become construction workers and send their wages back home to their families.
Putin met with national security officials last night
Late last night, Russian President Vladimir Putin sat down with the heads of national security agencies to discuss the bombing attack. Islamic extremists have been attacking Russia for years. This bombing just adds to the long history of #Terrorism. However, most of the Islamic terrorist groups in Russia are situated in the North Caucasus, which led to bombs being set off on the subway system of Moscow in 2010 and a suicide bombing at the airport in Domodedovo in early 2011.
A new raft of Islamist attacks culminating in yesterday's bombing began in late 2015 when Russia involved itself in the conflict in Syria. Islamic State propaganda peddlers named Russia as a potential future target and here we are. ISIS claimed responsibility for setting off an explosive device on a plane flying from Egypt to St.
Petersburg, crashing it. And that was just one month after Russia entered the war in Syria. They mean business.
Details of the attack
The explosion of the bomb took place on Monday at 2:30pm (Russian time) after the subway train that was targeted had departed from the Sennaya Ploshchad station in the St. Petersburg city centre. Following the explosion, the quick-thinking driver of the train kept it going to the next station, Tekhnologicheskii Institut, which would make evacuating the train easier. #vladimir putin #St Petersburg