Rhino poacher shot in Zululand at UNESCO World Heritage Site
The iSimangaliso Wetland Park rangers save the lives of 4 rhino as poaching increases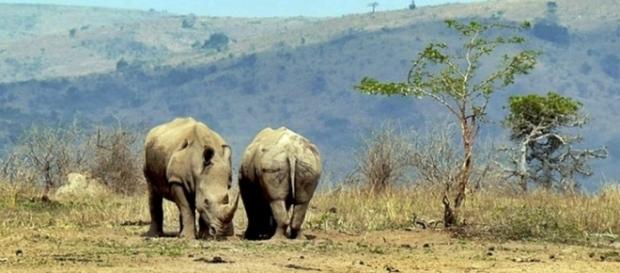 A rhino poacher was shot at the #UNESCO World Heritage Site - iSimangaliso Wetland Park in #Zululand last week. This happened after rangers monitoring four rhino responded to poachers attempting to shoot them with high-calibre rifles. 
Terri Castis, spokesperson, said in a statement published by IOL South Africa, that "two men who were carrying high caliber weapons fired at the rhino." One man was shot and the other escaped.
Rhino poacher died from his wounds
Castis also said that a ".375 rifle with a silencer was recovered at the scene." It appears the rhino were shot at, but not injured by the poachers and they fled into the night.
The anti-poaching rangers resumed their rhino tracking on the morning of Friday 4th November. The investigation is still ongoing.
2016 one of the worst years for KwaZulu-Natal
The poacher who was shot was wounded and later died from his injuries. The constant risk of being shot and killed while poaching in the Zululand reserves does not seem to deter the killers. According to Cedric Coetzee, who runs the Rhino security operations in iSimangaliso reserves, this has been one of the worst years for poaching of rhino. So far this year, 132 rhino have been poached in the Province of KwaZulu-Natal, and 23 of these were in the famous Hluhluwe-Imfolozi Park. The rhinos were killed over a period of two weeks and the poachers operated in a gang thought to have traveled to the area from the Limpopo Province in the north of South Africa.
Inkatha Freedom Party called for life sentence for poachers
In 2015, across the country of South Africa, 1175 rhinos were killed by poachers and there were 317 people arrested, with only 48 of them being convicted in court. - a 15% conviction rate according to statistics reported by SA Breaking News. The Inkatha Freedom Party (IFP) were so enraged by the death of animals through poaching that in 2015 the IFP Leader in the KwaZulu-Natal KLegislature, Mr. Blessed Gwala, MPL called on the government to iintroduce mandatory life imprisonment for rhino poaching.  #rhino poaching