In the sights of the chinese Diego Costa faces an indecent proposal
Tianjin Quanjian offered 30 million pounds for Chelsea striker and stirred the mood of the club, of the player and of the football industry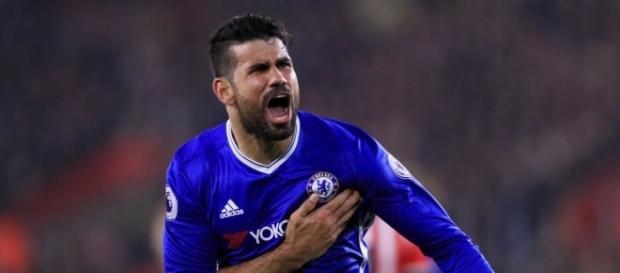 He is no doubt the greatest striker of Premier League at the moment. He is also one of #Chelsea's greatest players and like all great talent came to the attention of the Chinese, who with high values can change the conscience and the career of many athletes.
Indecent Proposal
Diego Costa, 28, former Atletico Madrid, has been sought by Tianjin Quanjian that said it's looking for a striker. Costa's Manager, one of the greatest managers of #Football industry nowadays, Jorge Mendes, as well as Cristiano Ronaldo's manager and James Rodrigues, was seen in a conversation with a representative of the chinese team. The proposal: 30 million of pounds for the transfer, plus 576,923 thousand of pounds a week.
That would make Diego the second-largest negotiation of the chinese teams, only behind Carlos Tevez, who was signed by Shanghai Shenhua on around 615 thousand of pounds a week. Chelsea in turn, would receive 80 million of pounds in the sale and would lose its best player.
Speculation
In the past days, Diego Costa has been training separate to the rest of the team and was left out of the game against Leicester that happened lastSaturdayy. Antonio Conte alleged that Diego has a back problem and therefore has not been cleared for fitness. But there rumors saying that all these changes are because of the supposed cChinese negotiations, which Conte does not agree with. Roman Abramovich, president of the London club, said he will not lose his player to China and will hold him, at least, until the end of his contract in 2019.
Diego wishes
It is obvious that every player wants to be a winner and Diego Costa is no different. There is a very good chance of him being a champion with Chelsea in the premier league and also in the next champions league. He said in an interview that he is very happy in London and also denied any disagreement with Conte and has no interest in going to China.
However, there are sources saying that what he really wants is to return to Atletico Madrid, which almost occurred in the window transfer of last summer. Rumors come and go but whatever Costa's fate is, the main question remains: how much money is worth more than a career? Diego's real wishes are only inside his mind. The blues fans can only wait for him to make a good choice. Meanwhile, Chelsea continues to make a good campaign and even with the absence of the striker they,beat the last english champion by 3x0 keeping the lead. #DiegoCosta