Bollywood actress Priyanka Chopra selected as presenter at Golden Globe Awards
Priyanka Chopra of 'Quantico' and 'Bay Watch' will be with Timothy Olyphant and Justin Theroux to present awards on 8 January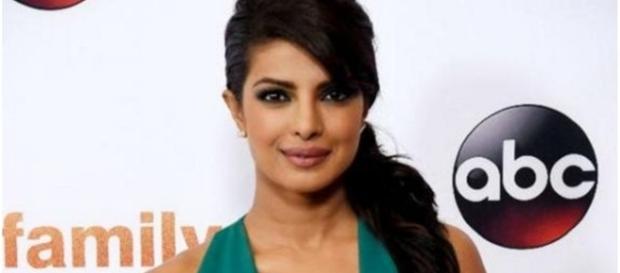 Bollywood will be present in the form of #Priyanka Chopra at the #Golden Globe Awards on January 8th, 2017.
Priyanka has been selected as a presenter and she will help to announce awards along with Timothy Olyphants and Justin Theroux.
The Bollywood actress is known for her part in "Quantico" and the upcoming "Bay Watch" movie internationally and of course, back home, was loved for her role in "Bajirao Mastani." Priyanka was so excited and proud that she shared her news on Twitter
Bollywood's Priyanka retweets her selection as Golden Globe presenter 2017
We're also pleased to announce Timothy Olyphant, Justin Theroux, and @priyankachopra as presenters for the 74th Golden Globe Awards. pic.twitter.com/7n57woZ2EJ

— Golden Globe Awards (@goldenglobes) December 30, 2016
Priyanka will be in good company at the glittering event as she will be working alongside other famous people such as "Drew Barrymore, Steve Carell, Matt Damon, Viola Davis, Laura Dern, Goldie Hawn, Anna Kendrick, Nicole Kidman, Diego Luna, Sienna Miller, Mandy Moore, Jeffrey Dean Morgan, Timothy Olyphant, Chris Pine, Eddie Redmayne, Sylvester Stallone, Justin Theroux, Milo Ventimiglia, Sofia Vergara and Reese Witherspoon" according to Times of India.
The 74th Golden Globe Awards
The 74th Golden Globe Awards is the next in the long line of the American honours that recognises film and TV excellence from both the USA and across the world. The Golden Globe is prestigious and the event which includes a dinner and formal ceremony is a glittering affair. Only the Oscars and the Grammy Awards get more views as they are shown around the world.
Priyanka Chopra is a beautiful icon from India
The stunning Priyanka Chopra who hails from India is well known for her beauty as she won the Miss World Pageant in 2000. She herself has been the recipient of numerous awards, including five Filmfare Awards. Time Magazine ranked her as one of the top 100 most influential people in the world.
In 2015 Priyanka Chopra began playing the role of Alex Parrish on ABC's "Quantico" series.
This was a big first for an Asian actress as she became the first south Asian to star in a USA network series. India is very proud of their stunning actress, who also has a lot of brains. She initially wanted to study as an aeronautical engineer, but luckily for the fanatical filmgoers of India, she went into the entertainment industry instead. The Golden Globe Awards is a wonderful opportunity for the country to see their favourite actress showcased in the glittering world of fantasy. #Priyanka online