'Cesur and Güzel' is the new series that has excited all Turkish TV fans
Cesur meets Sühan Korludağ in an unexpected way, but will their meeting change the destinies of everyone around them?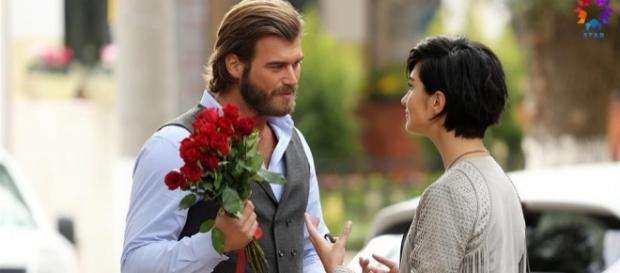 As high quality as Turkish TV series can be, it's understandable that sometimes a little outside help is welcome. Over the years, Turkish series and films have taken inspiration from around the world - most notably, the United States - for the plot of their productions. They do not always work out successfully; in 2015, 'Tatlı Küçük Yalancılar' (Sweet Little Liars), which was inspired by I.Marlene King's 'Pretty Little Liars', ended after only 13 episodes. Last week, however, the significantly anticipated first episode of "Cesur ve Güzel"(Brave and Beautiful), an adaptation of American series "The Bold and the Beautiful", finally aired on Startv.
"The Bold and the Beautiful" is an American TV series that first aired in 1987 and therefore, "Cesur ve Güzel" has a lot to live up to. On the other hand, the show is already expected to be successful due to its cast - Kıvanç Tatlıtuğ and Tuba Büyüküstün were the main cause for excitement ever since the series was announced. Find out what happened in the first episode in the recap below:
Cesur and Sühan meet for the first time
While Cesur Alemdaroğlu is driving through Korludağ, a town just outside of Istanbul, he has one thing on his mind; the plan which will allow him to take back the life his father has stolen from him. Suddenly, a rider whose horse has lost control gallops out from the forest into the road. The horse charges dangerously towards the edge of a cliff.
Cesur stops the horse and saves the girl by putting his own life in danger; which is how Cesur and Sühan meet for the first time.
When Cesur finds out that Sühan is Tahsin Korludağ's daughter, he decides to take over his enemy's most weak and sensitive spot. Sühan is a strong woman who has been raised very well and has created her own brand. She grows flowers on her own land, produces perfume with her SHN brand, and even designs the perfume bottles in her own studio. Before Cesur enters her life, she was sure of her plans to marry Bülent and live a safe, happy life together. However, from the moment Cesur enters Korludağ, everything in her life is turned upside down.
Tahsin Korludağ has another enemy
Tahsin Korludağ is hated by everyone in town, both the young and old, but his only desire is to plant his roots and become a grandfather. This situation causes significant stress for Korhan, Sühan's older brother. His wife, Cahide, is a very ambitious and money-motivated woman. There's nothing she wouldn't do to get her hands on Tahsin's fortune – including killing Sühan. When Cesur finds out that the incident with the horse was not an accident, he realises that Tahsin Korludağ has another enemy very close to him. The events that take place on the night of Tahsin's traditional birthday festivities will change the destinies of everyone present. #Cesur ve Guzel #Tuba Buyukustun #Kivanc Tatlitug