The EU is likely to be secretly happy with Britain's Brexit proposals
Despite Barnier and Juncker's posturing, there is much reason to believe they endorse the Government's position.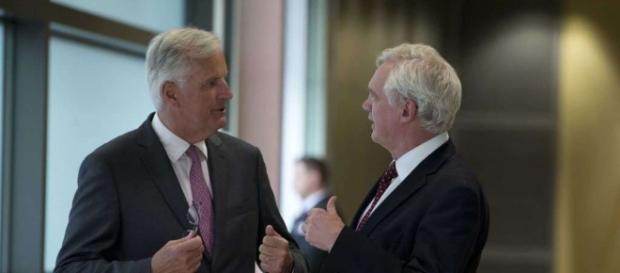 In a short space of time since Theresa May became Prime Minister in July 2016, the newly-created Department for Exiting the EU has done well to articulate a negotiating strategy for the ongoing Brexit negotiations considering David Cameron had no contingency plans ready. It is clear that the Government's position represents the one articulated by Vote Leave during last year's EU Referendum; stop the free movement of people, end the supremacy of all European laws over British ones and forge a trade deal with Brussels that does not require Single Market, or European Economic Area, membership.
The EU's Chief Negotiator has to compromise at some stage
The EU's Chief Negotiator, Michel Barnier, and the European Commission's President, Jean-Claude Juncker, have dismissed Brexit Secretary David Davis' negotiating strategy and the papers his department recently produced that clarify what the UK wants from these discussions in public. As mentioned in previous articles, both figures want to present a tough image to secure their own positions. Mr. Juncker does not want his legacy to be an EU on the verge of collapsing and Mr.
Barnier may want to replace him. Ironically, the trading bloc's survival depends on trade between both sides, which is why the EU's Chief Negotiator has to compromise at some stage.
That is why there could be some truth behind Vicky Ford MP's argument that many European politicians are secretly happy with Britain's proposals. Mrs Ford is a former Member of the European Parliament. Her knowledge and experience in this field is respectable. That is why she speaks with authority when she made this claim on Sky News.
She said Mr. Davis' Brexit papers represented positive steps forward.
However, with talks stumbling over the proposed divorce bill, if this impasse continues, a trade deal is even more unlikely to be concluded by March 2019. The exit fee is nothing more than a distraction to cause the negotiations to fail and trap the UK in the trading bloc. That is why established Eurosceptic MPs like John Redwood and Julian Lewis are right to say Britain will be fine if it walks away and trades under WTO rules.
There is no chance Brussels will allow the Government to dictate what the terms of Brexit should look like
Whilst this country remains a member of the EU, there is no chance Brussels will allow the Government to dictate what the terms of Brexit should look like. As Mr. Lewis said, leaving this organisation will enable Mr. Davis to call Mr. Barnier's bluff and allow Britain to reach a trade agreement with the EU that meets both sides' needs. In the meantime, UK-EU trade can continue under WTO rules and trade deals with some of the world's largest economies can be formed, meaning this country will not be entirely dependent on European trade.
Mrs Ford is right; Britain's aims do make sense, but that does not mean Brussels will comply. They have already demonstrated that through this divorce row. It's time the UK left and dictated what trade between both parties should look like.
Click to read more
You will watch a video to read the news
or