5 weird and wonderful attractions in the Caribbean
The Caribbean is not just about sun, crystal clear water and palm trees, there are several other unique experiences to enjoy.
Visiting any Caribbean island can be a great experience [VIDEO], with the sun, sand, waving palm trees and endless cocktails. However, the islands also have a unique side. The following are five interesting locations to visit on a Caribbean cruise or trip.
You can go to Hell in Grand Cayman, see an abandoned yacht with a mysterious tale to tell, sit and chat with a statue of John Lennon [VIDEO], swim with feral pigs, and stand in a place where the Atlantic Ocean meets the Caribbean Sea.
1
Hell, West Bay, Grand Cayman
Hell is an actual place on the island of Grand Cayman, and while you might think of fire and brimstone when relating to the devil, this version is mainly black limestone. There's even a little statue of the Prince of Darkness himself and a lot of excessive kitsch all over the area, including the gift shop. It's definitely a fun place to visit!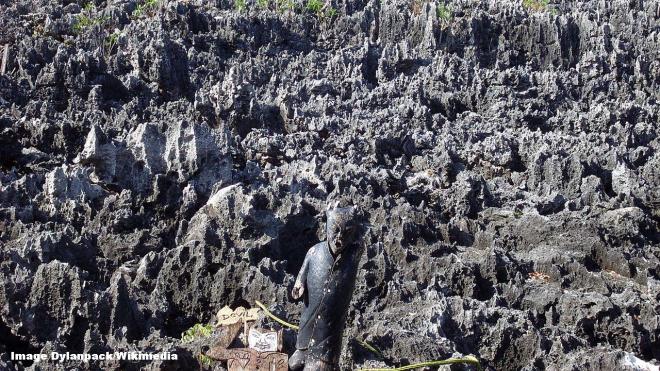 2
Wreck of the Teignmouth Electron, Cayman Brac, Cayman Islands
This 40-foot catamaran has been left rotting on a Cayman Brac beach and stands in memory of the mysterious disappearance of its original owner. The Teignmouth Electron was built by Donald Crowhurst, to participate in a round-the-world yacht race. However, the boat was found drifting in the Atlantic Ocean in 1969, with no sign of Crowhurst himself. Judging from some bizarre entries in the ship's log, it is believed that he left the race due to sailing problems.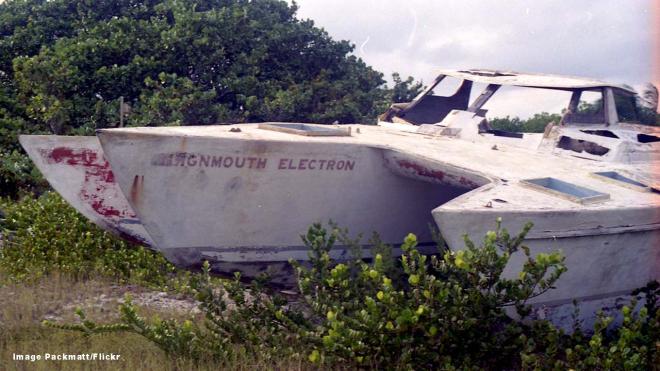 3
Statue of John Lennon, Havana, Cuba
The Beatles' music was once banned in Cuba and tapes had to be smuggled in. 20 years after John Lennon died, Castro decided the Beatle should be celebrated as a hero and a bronze statue of Lennon was erected in John Lennon Park. A tribute concert was also held in Cuba in 2000. According to Castro, Lennon shared his dreams. He said he, too, is a dreamer whose dreams have become reality. Now you, too, can sit and spend time with Lennon in the park.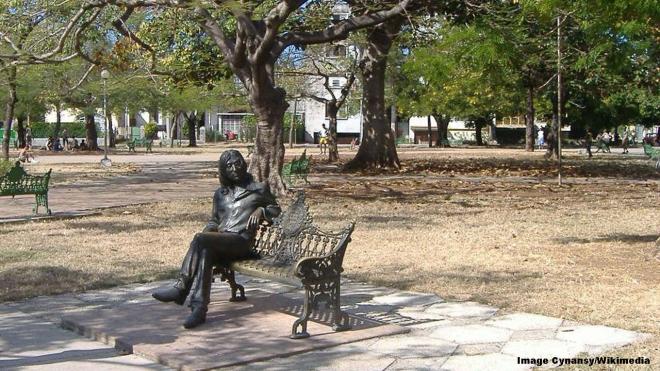 4
Pig Beach, Big Major Cay, Bahamas
You've probably heard of swimming with the dolphins. Well, on an uninhabited island in the Outer Exumas you can swim with the feral pigs. They have taken the island over as their own. Boat trips can be taken from Fowl Cay Resort and many people have fed the pigs on their visit. However, as several have died from the food given to them, it is recommended to look, but not feed. The pigs regularly swim out to the boats and are friendly.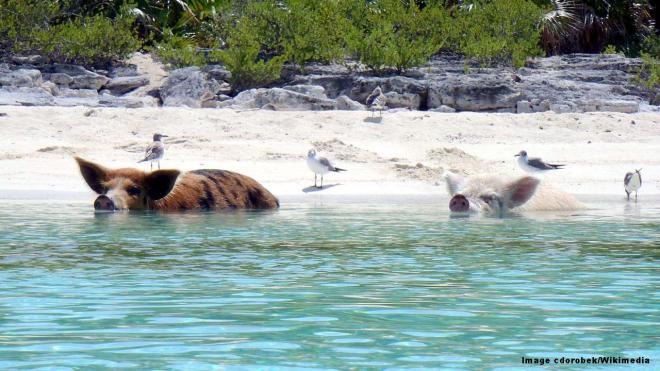 5
Glass Window Bridge, Bahamas
This spot is sometimes called the narrowest place on Earth and is a bridge which divides the power of the Atlantic Sea from the more placid Caribbean Sea. As the natural stone arch is so narrow, waves often wash over the bridge, joining the two oceans together.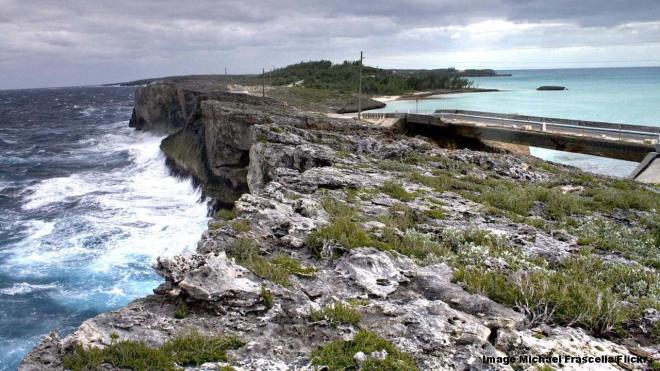 This news article has been verified through:
https://www.atlasobscura.com/places/wreck-of-the-teignmouth-electron
https://www.bahamas.com/official-home-swimming-pigs
Click to read more
and watch the video
or