Bungee jumping, or bungy as it is sometimes known, is not for those with acrophobia, i.e. an extreme fear of heights. This adrenaline sport is available all over the world and sometimes in beautifully scenic areas. Bungee involves jumping from a tall structure, such as a building, dam or bridge, while securely connected to an elastic cord.
The highest bungee jump is from Macau Tower in China, with Verzasca Dam in Switzerland in second place. Third place belongs to the Bloukrans Bridge in South Africa, followed by the Rio Grande Bridge in the USA. Last, but not least, is the Europabrücke Bridge in Austria.
1
Macau Tower, Macau, China - 233 metres (764 feet)
Macau is famed for its casinos and gambling, but with the Macau Tower standing at 233 metres (764 feet), it is here that New Zealander Alan John Hackett set a Guinness World Record in 2007 for the highest commercial bungee jump ever. It's nice to see they have signs warning the general public about the possibility of falling people!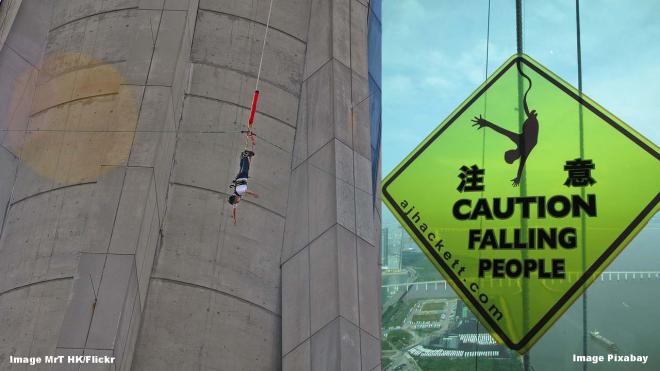 2
Verzasca Dam, Ticino, Switzerland - 220 metres (722 feet)
Standing at 220 metres (722 feet), the Verzasca Dam in Ticino is considered to be the second-highest bungee jump in the world. However, it is also the only spot where you can jump at night, as the dam is lit with floodlights. You might remember the dam from a brief feature in the James Bond film "Goldeneye," although 007 wasn't bungee jumping at the time!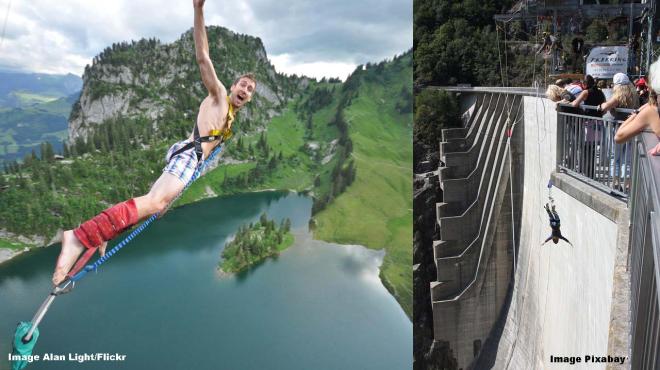 © ALL RIGHTS RESERVED