Hundreds of sausage dogs dressed festively in Hyde Park
Around 500 dogs got dressed up to the nines on Sunday, parading with their owners in Hyde Park, London.
Hundreds of dachshunds and their humans got dressed up festively over the weekend despite the December chill. The sausage dogs looked cute as a button on Sunday as they paraded in Hyde Park in London [VIDEO] in their Christmas wear.
News of the upcoming walk was published by the website Secret London and it received a huge amount of support from owners of the iconic sausage dogs. They had reportedly had a Halloween special, but they believed the Christmas walk would be the most popular.
Stumbled across Xmas jumper day for sausage dogs in Hyde Park. Britishness at its best. pic.twitter.com/u9yOxqjBYp

— Andy (@shoshdog) December 16, 2018
ITV quotes the walk's organiser, Ana Rodriguez, as saying it is a great way to socialise the dogs with fellow dachshunds, and also to meet other dog owners.
However, while most of the dogs enjoyed [VIDEO] meeting new friends, apparently some scraps did break out, requiring the sausage dogs' owners to split up the fighting parties.
The Huffington Post quotes dachshund Rupert's owner, Cassandra Williams, as saying it was a good excuse for them all to get together, calling the dog owners "slightly mad people." Cassandra went on to say it was a good opportunity for Rupert to "make friends" and be more sociable towards other dachshunds.
The following are some of the best-dressed sausage dogs of the day.
1
Santa Claus hits Hyde Park
This cutie was wearing the best Santa outfit of the day, complete with a hat with pompom.
2
Sausage dog cum reindeer
Rudolph, Donner, Comet, Prancer, Cupid, Dasher and Dancer were no doubt impressed by this little dachshund's costume.
3
A couple of elves hit the scene
These two look totally festive as Santa's little helpers.
4
Glittering tinsle made the day
This cute sausage dog looked very festive in her tinsel outfit in Hyde Park on Sunday.
5
Not so Christmassy, but still cute!
This pair of dachshunds enjoyed watching the fancy costumes passing by, no doubt thinking they were lucky to be "normally" dressed.
6
Another dog in festive wear
Meanwhile, my own little Spanish rescue dog, who has a little sausage dog in her somewhere, looks totally disgusted at her costume. Nina wishes all the sausage dogs a Merry Christmas!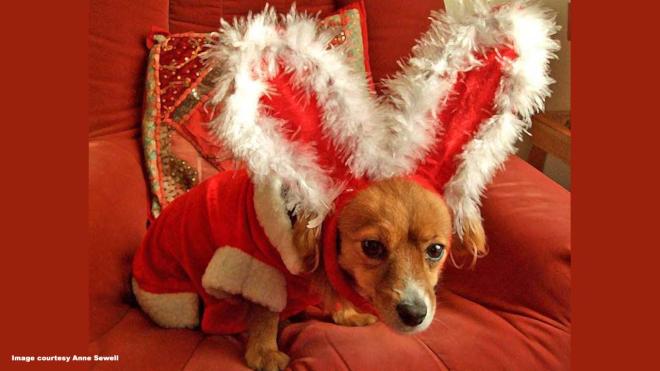 This news article has been verified through:
https://www.huffingtonpost.co.uk/entry/500-dacshunds-embark-on-a-christmas-walk-in-hyde-park_uk_5c166078e4b049efa7533bc5
https://www.itv.com/news/london/2018-12-17/hundreds-of-sausage-dogs-and-owners-dress-up-for-hyde-park-christmas-walk/
Click to read more
and watch the video
or