Bali, Indonesia is a tropical paradise, with endless beaches, coral reefs, rice paddies, and volcanic mountain views. There is so much to do, including temples to visit, beach resorts to chill out in and yoga and meditation retreats.
However, Bali also has its own spicy and delicious cuisine to taste on a visit to the island. Five examples of traditional foods are included here.
1
Gado-Gado (vegetable salad)
Gado-Gado is a tasty and healthy vegetable salad, made by lightly steaming or boiling a selection of seasonal vegetables along with boiled potato, fried tofu, tempeh and lontong (cooked rice wrapped in a banana leaf). The dish is topped with a boiled egg and served with a tasty peanut sauce.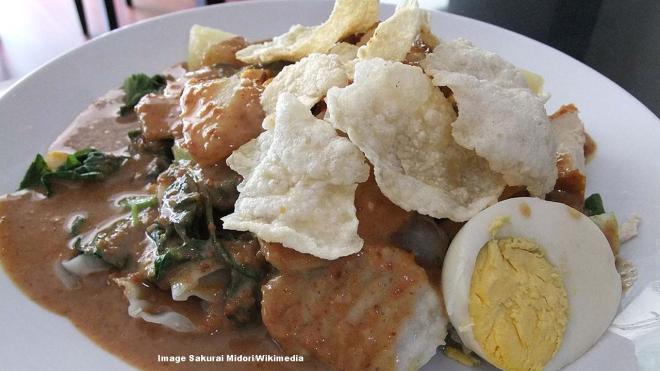 2
Bebek Betutu (Spicy roasted or steamed duck)
Bebek Betutu is a ceremonial dish in Bali, and consists of smokes or roasted duck, spiced with the local bumbu – a mixture of shallots, garlic, turmeric, ginger, chilli peppers, galangal, peanuts and shrimp paste, ground together with a mortar and pestle and sautéed in coconut oil to enhance the aroma and spicy flavour. It is served with salad, rice and vegetables.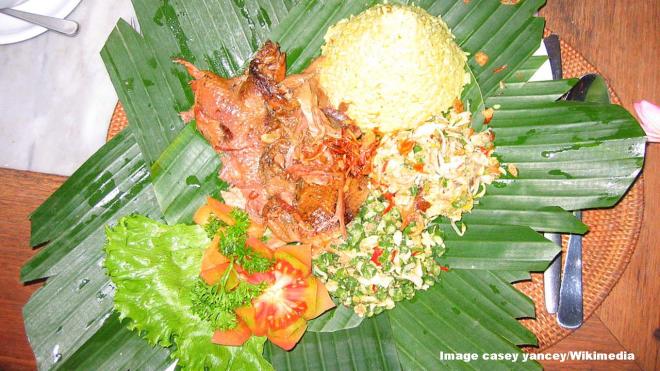 © ALL RIGHTS RESERVED