India- fears for coal miners trapped in mine collapse - death toll rises
Jharkhand's Godda district is a rich mineral zone in India - trapped miners, dead and injured - search and rescue hindered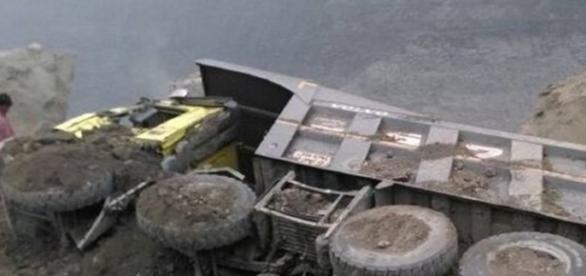 India Jharkhand's Goodsa district is rich in mineral wealth. There are fears for miners who are trapped after a coal mine ceiling collapsed on Thursday night and the death toll is rising.
Rescue efforts were hampered as the collapse also caused an electricity failure for some hours and there was a lot of heavy fog.
Seven miners are reported dead so far and there are fears there will be more as the numbers of dead are rising.
The initial reports indicated that four of the miners had died in the incident but this has been updated.
NDTV reported that some injured people have been found and removed to the hospital.
Coal mine death toll rises
.
Jharkhand mine collapse: Death toll rises to 7, rescue operations still underway, reports ANI

— Times of India (@timesofindia) December 30, 2016
A representative, Rajiv Ranjan Mishra, the managing director of Eastern Coalfields Limited said via the ANI news Agency, that four bodies were removed and one dead person can still be seen under the rubble. Since then further dead have been recovered. National Disaster Response units are on their way to assist mine staff in the rescue effort.
India - the mine collapsed near the entrance, trapping vehicles
India Today posted a heart-wrenching video on Twitter.
.
Heart wrenching visuals from Jharkhand mine collapse
At least 50 dead, many trapped #ITVideo pic.twitter.com/qydqtlssdz

— India Today (@IndiaToday) December 30, 2016
The mine collapse happened near the entrance, which contained at least forty vehicles where the miners were working at about 200 feet beneath ground level. At this time, although it is known that there are people trapped, they just don't know how many of them are trapped in the mine itself or buried under rubble and mud. There are fears that there may be more fatalities.
Across India, people are devastated to hear the news of the coal mine collapse which brings another tragedy to the 2016 account.
PIB_India: RT mansukhmandviya: Deeply pained by the news of coal mine collapse in Lalmatia, Jharkhand. I express my deepest grief for the w…

— Bhavin Vijay Jethva (@bhavijay_jethva) December 30, 2016
It seems that the land subsided and caused the collapse as The Indian Express reported Mishra said, "Three excavators, seven dumpers were identified at the mining site where incident took place, two dumpers fled when land subsided,"
In a statement quoted by The Hindu, a Police spokesman said that nobody is sure just how many people are trapped. In the meantime, the Minister for Power and Coal has announced that there will be an investigation into the incident. Prime Minister Narendra Modi announced a fund of Rs 2 lakh for the deceased and 25000 for the injured. #coal miners trapped #India coal mine disaster #India Jharkhand mine