Arsene Wenger wants Oxlade-Chamberlain to take charge of Arsenal's future
The Arsenal boss on the future of the club, Alex Oxlade-Chamberlain, and Aaron Ramsey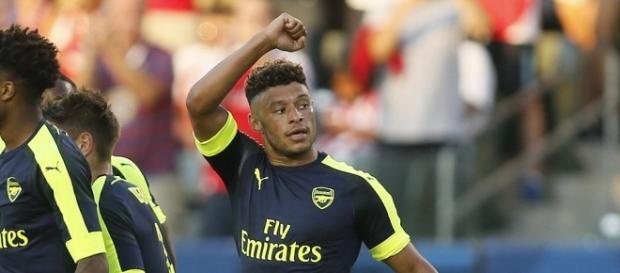 Ahead of today's FA Cup semi-final against Manchester City, Arsene Wenger [VIDEO] has revealed that he wants both Alex Oxlade-Chamberlain and #Aaron Ramsey to remain at the club and take charge of its future. Oxlade-Chamberlain has been linked with Liverpool in recent times, while Ramsey has endured a rather frustrating season at #Arsenal. According to The Telegraph, Liverpool boss Jürgen Klopp is understood to be a huge admirer of the 23-year-old and is willing to offer Arsenal £35million for his services. The England international is believed to have grown frustrated with his lack of game time but has become a regular starter for the Gunners in recent matches.
Wenger, however, plans to keep both Ramsey and Oxlade-Chamberlain at the North London club and believes that his local players carry the values of Arsenal Football Club.
Oxlade-Chamberlain should stay at Arsenal for another decade, says Wenger
During the pre-match press conference, Wenger stated that he plans on keeping Oxlade-Chamberlain at Arsenal for another 10 years. The 23-year-old has been in fine form in recent months and impressed whenever he was given the chance to play. He's also a versatile player who can be utilised as a central midfielder or a right winger. His future at Arsenal, however, is shrouded in uncertainty, as his contract with the Gunners expires at the end of next season. The England international is yet to sign a new deal, but Wenger previously claimed that contract negotiations would commence in the summer.
Speaking about Oxlade-Chamberlain during the press conference, Wenger said: " I want him to stay at Arsenal Football Club for the next 10 years. [...] He looks like he's on an upward curve. He has had little problems always, but now he's getting a little stability and more freedom to play." The long-serving Arsenal manager further claimed that the England international is "a big player" and that money wouldn't be an issue for him no matter where he signs.
British players carry the values of Arsenal, claims Wenger
Wenger also touched upon Aaron Ramsey's future with the Gunners. The Welshman has been one of the standout players at the European Championship last year but has had a season to forget at Arsenal. Like Oxlade-Chamberlain, Ramsey is running out of contract at the end of next season, and he is yet to agree on a new deal. The Arsenal boss has, however, stated his desire to keep the British pair at the North London club. When asked if he'd like to have a core of British players at Arsenal, Wenger replied: "Yes, of course, but what I love above a passport are players who integrate the values of the club." The 67-year-old further claimed that it would be easier for his "local players", including Oxlade-Chamberlain and Ramsey, to inherit these values, because they've been educated at Arsenal Football Club. He also urged the pair "to take charge of the future of the club." #Alex Oxlade Chamberlain