Ed Sheeran teamed up with Beyonce to release surprising remix of song "Perfect"
When everybody thought the song couldn't be any better, Sheeran gives the public another masterpiece.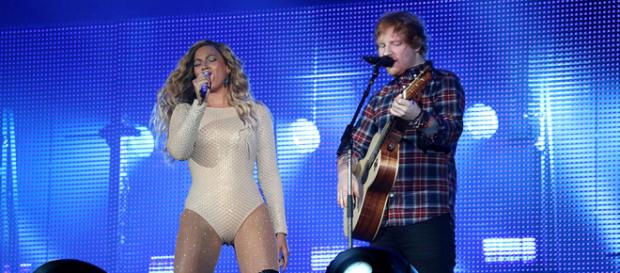 British hitmaker #Ed Sheeran keeps racking up more and more successes; Sheeran released his latest album, "÷" ("divide") earlier this year, instantly becoming a huge success for the singer. He sold 10 million records only this year, so you can picture what a great year -and career- the Halifax native has had so far.
With singles like "Castle on the Hill" or "Shape of You", Sheeran started to introduce his newest album to the world, starting the great moment he's having nowadays. "Divided" debuted at number one on the US Billboard 200 and the tracks reached the milestone of 134.6 million streams in the United States in their first week of availability.
This album is currently the top selling one of 2017 in the country of the bars and the stars, setting and breaking several records in the process.
As soon as the album was released, there were other songs that made an instant impact such as "Dive" and "Happier", but there is definitely one track that made the difference and became the favorite one from the album to most fans around the world and that's none other than "#Perfect".
Ed has always known how to engage his public and boy; he really nailed it this time with this song. "Perfect" has turned into a hymn for Sheeran's fans and with all reason, but none of them had any idea of what was coming to a couples of months after the release of the song.
Could Sheeran's song have any improvement?
Well, now this depends on the public and their taste, but Ed indeed did something to make the song a lot better, joining efforts with the one and only Beyoncé to release the remix of "Perfect", which has accumulated over two million views on Youtube in only one day.
In this remix, Beyoncé sings the second verse just exactly like Ed did in the original version, but from a female perspective.
'I can't believe it, to be honest,' said Sheeran when asked about the collaboration. He told News Corp he believed she wouldn't accept the offer to sing the song alongside him. 'It's something I kind of did just to see whether she would say yes,' he added.
Beyoncé, on the other hand, described the moment and the scenario where they made the song. 'It's a really weird thing, it was just me and her and an engineer, which was very cool' were the words of Knowles.
So, what's next for Ed?
After having a year where he appeared in the arguably most popular series in the world, recorded one of the best albums in recent years and teamed up with one of the most respected and talented artists in the world, it looks like the next challenge for Ed Sheeran has to be really huge. The singer has demonstrated once again how good he is as an artist and all the quality he can provide, so we can't wait to see what the next step in his career is. Who knows, maybe another surprising collaboration is on the way. #Beyonce