'American Horror Story' season 7 based on a 'completely batsh*t' idea
Executive producer has been dropping some exciting hints about the show's return as PaleyFest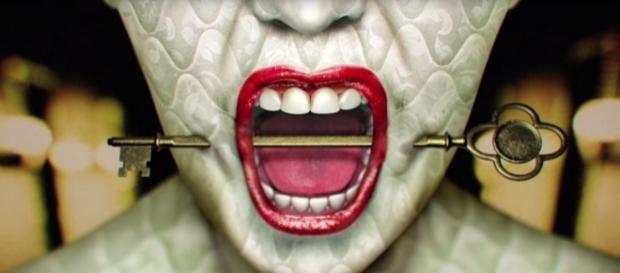 The titles of "#American Horror Story" seasons are usually kept under wraps until right before the initial airing, as was the case last year with "Roanoke." "Hotel" and its main draw Lady Gaga were announced nice and early to get "Poker Face"-loving tweens excited, but they're usually pretty ironclad secrets.
However, creator and producer Ryan Murphy has revealed that it's inspired by last year's Presidential election. When some people got a little confused by that and took it a little too literally, he had to clarify that Donald Trump will not appear in the show as a character and the inspiration is more thematic, involving the fears that arose from the election rather than the election itself.
Themes have always been "American Horror Story's" strong suit. Stories, not so much. Ironic, given that the word "story" is in the title.
More hints revealed at PaleyFest
Tim Minear, one of the many executive producers to sign onto the "American Horror Story" cash cow, appeared at the show's panel at PaleyFest to drop some new hints about its upcoming seventh season. Minear says that one challenge with the secrecy of the show is that if a production is to receive tax credits, "you have to give a synopsis of what you're doing," which Murphy is "not okay with."
Minear went on to explain an interesting story that in order to keep "Roanoke" shrouded in secrecy and protect its story from being leaked, they provided the tax benefit people with a short synopsis outlining "this completely batsh*t thing" that the "American Horror Story" creative team simply "made up" out of the clear blue sky in order to secure the tax break.
Minear then teased, "The funny thing is, we're doing it this year."
Interestingly, the central figures of the 2016 election that this season of "American Horror Story" is based on were Hillary Clinton and #Donald Trump, who Murphy (not present at PaleyFest) has promised will not appear as characters on the show. But the only two cast members confirmed to be appearing this season are Sarah Paulson (who has some very Clinton-like qualities) and Evan Peters (known for playing callous psychopaths on "AHS"). So, perhaps Hillary and The Donald will not be showing up as characters, but it's pretty obvious that Paulson and Peters will be portraying allusions of them. "AHS" has been renewed for years, up to season 9 in fact, and it will return to FX and Fox UK later this year. #Television