Best comedy movies 2016 that will definitely break the records
Central Intelligence is one of the highest grossing comedy movies of 2016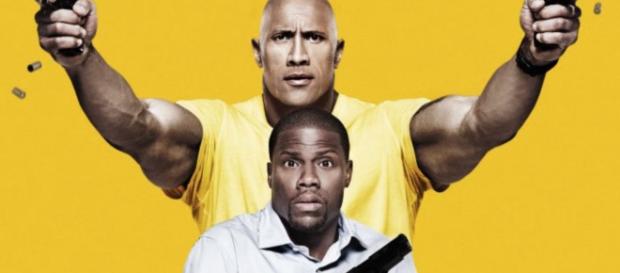 MovieWeb has recently presented a list of best #Comedy Movies 2016 that will definitely break the records. The comedy movies burrow into our minds very quickly, and are an excellent source of entertainment. Throughout the year, #Hollywood's comedy, horror, action, and romantic movies receive mixed reviews from the critics. The funny movies help us to forget the worries of life for a few hours. It would not be wrong to say that the films are a comfort food because these are released with lovingly amid fart jokes. Here is our pick of best comedy movies 2016.
Ghostbusters
Ghostbusters is a supernatural movie. Its director is Paul Feig, while Feig and Katie Dippold have written the script of the film.
Let me here tell you that this is the third installment of the Ghostbusters franchise. Here Melissa McCarthy, Kristen Wiig, Kate McKinnon, Leslie Jones, Charles Dance, Michael Kenneth Williams, and Chris Hemsworth have played the leading roles. The previous installment, Ghostbusters II, was released in 1989. I must say that Sony has taken the right decision of signing new faces for this project. Distributed by Columbia Pictures, the film was premiered at a Los Angeles theater. Released in July 2016, Ghostbusters is doing great business. So far, the movie has grossed more than $190 million worldwide, while its budget was around $140 million.
Finding Dory
Finding Dory is a 3D comedy film. This Hollywood flick has been produced by Pixar Animation Studios and distributed by Walt Disney Pictures.
The director and scriptwriter is Andrew Stanton. Finding Dory is a sequel to 2003's Finding Nemo. Ellen DeGeneres, Albert Brooks, Hayden Rolence, Ed O'Neill, Kaitlin Olson, Ty Burrell, and Diane Keaton have voiced the main characters. The story of the film is about a fish named Dory who tries to reunite her mom and dad. During her journey, she is captured and brought to the US. Marlin and Nemo try their best to rescue Dory. The movie was released in June 2016, and so far it has grossed more than $850 million worldwide.
Central Intelligence
Central Intelligence has been directed by Rawson Marshall Thurber. This comedy film has been written by Thurber, Ike Barinholtz, and David Stassen. Kevin Hart and Dwayne Johnson have played the leading roles. According to the story, there are two old friends who try to protect the US from the external attacks. A terrorist attempts to destroy the whole country. In this film, Amy Ryan, Danielle Nicolet, Thomas Kretschmann, and Aaron Paul have played the supporting roles. The movie was released in June 2016. Reportedly, it has so far grossed more than $204 million worldwide. The budget of the producer for this project was $50 million. #Hollywood Films