"The most dishonest people" - Trump declares war on the US media
The new president bluntly said to prospectors that he is going to start a war with the press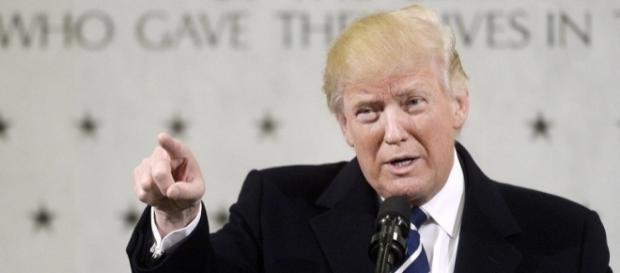 Donald #trump and his administration have recently entered into an open confrontation with the mass media. A spokesman for the White House, Sean Spicer told reporters that they would be called to account for unverified or non-relevant materials. Meanwhile, representatives of the media and celebrities continue to use every opportunity to undermine the authority of the new president.
The next day after the inauguration, Donald Trump addressed a welcoming speech to the representatives of the US intelligence community, who gathered at CIA headquarters in Langley.
This announcement was greeted with loud laughter and cheers from the audience
Indeed, delegates from the media and entertainment industry even after the official entry Trump's office do not leave attempts to undermine its credibility.
Often, moving from the scope of what is permitted. Thus, the singer Madonna in the Women's March stated that she wanted literally to blow up the White House, and a screenwriter at American show Saturday Night Live on NBC's Katie Rich wrote on Twitter that the Trump's son "Barron will be this country's first homeschool shooter."
The continuous attacks on Trump and his family led to the fact that the White House had to make an official statement on the current activities of the media.
Thus, the new head of the White House - Rhymes Priebus accused US media in an attempt to weaken the legitimacy of the president of the United States, Donald Trump.
"The media is trying to deprive the president's legitimacy by all means"
"And we are not going to tolerate it and sit back and relax "- announced a Press Secretary, Sean Spicer.
According to him, the White House is going to fight hard with such journalistic actions. He also added that the media underestimates the number of participants in celebrations on the day of the inauguration. "It was the largest audience that has ever watched the opening," - said Spicer.
In his address to the CIA staff, Trump drew attention to how the TV reports spoke up against his inauguration. He believes that journalists deliberately distorted information about the number of viewers who came to the event in order to be able to compare with the Barack Obama's inauguration in 2009.
The press secretary also called a reckless statement about Trump's decision to remove from the Oval Office the bust of the civil rights movement leader of Afro-Americans - Martin Luther King. He assured that it is not true.
Political analyst and cartoonist Ted Roll told that such a picture on the political scene had not been observed in the US history. "It's the closest choice of the real war in the American political sphere, which can recall in recent years.
The mass media has never protested so openly against the incumbent president. During the election, they paid him a lot of attention, perceiving him as a kind of comic hero who is speaking funny things, and therefore in order to raise their ratings. Then they have realised with horror that he can win. And they fell into even greater despair when he really won ", - concluded the expert. #MassMedia