Goodbye Christopher Robin the boy who inspired Winnie-the-Poo
A Book Developed out of love for all the soldiers that will go to war again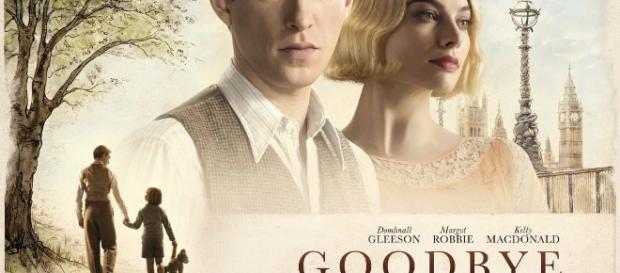 Winnie-the-Pooh is a story that is beloved by children over generations and has its place as one of Britain's best-loved children`s books. But have you ever questioned the origins of the story of Winnie-the-Pooh where it all began. Goodbye Christopher Robin begins not with a bear as you would think but with a father and son on an adventure in the woods. A casualty of the first world war AA Milne is still feeling the effects of it. So much so that any loud noise or bang took him right back to the scenes from France. He wrote plays to make people laugh. But he didn't want to make them laugh he wanted to make them see. Having an ambitious wife who longs to be back in the city she makes a sacrifice to make her husband write.
The horrors of war were not only felt by Alan but his wife Daphne who proclaims the horror of giving birth to a son only for him to walk into another war. It could be said that there had been so much loss that they didn't know how to smile again. Then came Winnie-the-Pooh, Tiger and Piglet his son. Christopher Robin would tell the father how his story gave thousands of boys comfort at war.
Did it ruin or change their lives? you decide.
It is true that the creation of Christopher Robin changed both Alan`s and his son`s life for better or for worse that's for you to decide. Alan didn't realise at first how much all this attention affected his son. He was so in demand and so popular that it took over their lives. Christopher Robin got his wish when he enlisted. He ran away to war but I think like all little boys he had to grow up and he did.
I think after that he appreciated what his father did. At the end all he could be was proud. How many boys can say that their father wrote a #Book for them? How many boys could say that they were the first Christopher Robin? That honour or perhaps burden goes to his son alone.
You might see some familiar faces
Domhnall Gleeson puts in a stunning performance as leading man AA Milne. He is in good company being supported by Margot Robbie who plays his wife Daphne de Selincourt, Kelly McDonald who plays the nanny. As well as Will Tilston and Alex Lawther as the younger and Older Christopher Robin. The film is directed by Simon Curtis and produced by Steve Christian and Damian Jones while being written by Frank Cottrell-Boyce and Simon Vaughan. They all join together to tell AA Milne`s story. I am sure he would have been proud to tell one more story. Some would say it was his last. But I would say that it was his first. It helps remind us that life is a collection of stories and no matter who you are you tell those stories until the end When you turn the last page and finish the story. #Winnie The Pooh