New Artist: SQUIDGE Release Brand New EP
Impassioned and evocative, 'What's The Point To Care?' by hot neo-grunge act is out soon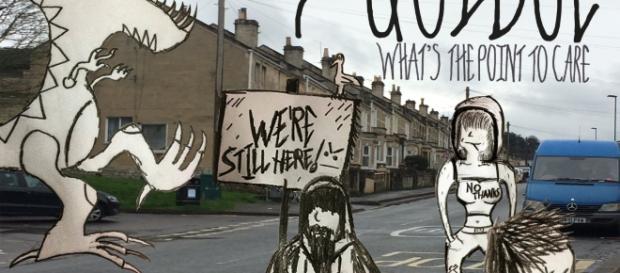 Influence
The kind of rhinoceros.-skinned emotionalism that informed the best of Pavement, Nirvana or the Pixies peak output is strived for by Squidge and often achieved. On opener 'On The Mend', frontman James Francis opens his heart in his razorblade-voiced way, the US alt-rock powering forward like Britpop never happened. In the week that prime minister calls a snap election [VIDEO], a Brexit-obsessed UK looks to the balm of music to provide some kind of sonic sanity.
Squidge: Neo-Emo
There's a kind of yowling, freewheeling madness to 'What's The Point To Care?', as 'Hypno-Doctor' compares a new partner with something like a postmodern Sigmund Freud.
'Disappear Reappear' resonates with a Mudhoney-esque strummed honesty, the proto-grunge coming off all neo-classical in appreciation, i.e. canons such as Marks Arm or Eitzel's are now held in the same reverence as a previous generation would have venerated Ozzy Osbourne or Jimmy Page. To Squidge it's all one linear rock heritage, oblivious to Year Zero punk and its tabla-rasa approach to late twentieth-century cultural politics.
Live Action
With the past-mincing aforementioned Britpop, old sounds were pushed through a synth and new wave mangle, the acts rinsing the moment for all they, apparently ironically, could. Squidge mean it much more, man. This is the raw sound of a proper underground rock club, minus the stale cigarette smoke and sticky carpets of yore. That quaint grimness has been replaced by a cyclical, despairing optimism, and faith in the insurrectionary power of the distorted electric guitar.
As music venues genuflect to pressure from councils up and down the UK, closing with disconcerting regularity, the pub-centred power of community resonates through the band's intensity.
The End
By the end of 'The End', we feel as if we've seen the brute inner self of Francis' hidden world, the dynamic muscularity of the surrounding churn offsetting it perfectly. Squidge tick all the boxes of guitar rock classicism juxtaposed with the emotional visceral necessary for such a band to develop in these glitch-fed days. When every band you can name is playing to an echo chamber of friends and family, and if they don't have a corporate sponsor or movie tie-in they have no chance to making a living from their music, the kind of dedication inherent in Squidge is vital for survival. Undiluted period Emocore has never sounded so fresh. #What The