Lady Gaga's millionaire show in the 2017 Super Bowl
The presentation of Lady Gaga began with an intro of 'God Bless America' from the top of the stage specially designed for the show by the singer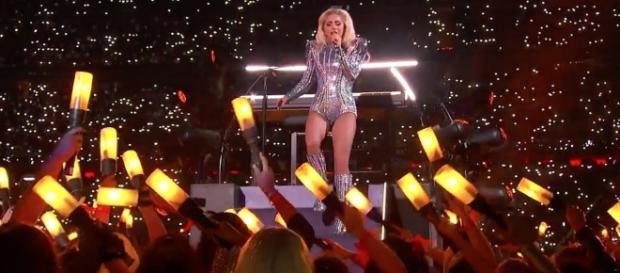 In a show considered the most expensive in the history of the Super Bowl, #lady gaga impressed more than 72 thousand people present in the NRG Stadium in Houston, Texas and approximately 110 million spectators who gathered to the great Final of the #new england patriots against the Atlanta Falcons.
Gaga's performance
After the act, the actress disappeared from the screen supported by a harness to make her appearance immediately on stage with her dance team and she performed several of her hits such as "Born this Way," "Telephone" or "Bad Romance." The performance of Lady Gaga also had a moment that delighted the audience when playing the piano in the middle of lights and rhythm.
Before concluding her performance, Gaga disappeared from the stage, applauded by the more than 72 thousand people who gathered at the end of the New England Patriots against the Atlanta Falcons.
Earlier, Lady Gaga, well known for her outspoken political views and their extravagant costumes, said she would send a message of inclusion. The Super Bowl has the largest television audience in the United States, held this year in an atmosphere of strong polarization about President Donald Trump, of whom Lady Gaga has been a strong critic. Gaga will be responsible for giving life to the half time show of Super Bowl 51, which it is said, will be the most expensive in its history, as it has invested about 10 million dollars.
Tribute to Michael Jackson
According to details, the presentation of Gaga contemplates, among other things, the use of hundreds of illuminated drones and a tribute to Michael Jackson.
The 13-minute concert also featured Tony Bennett, with whom the singer recorded the Grammy-winning album "Cheek to Cheek".
In addition to Lady Gaga, three members of the original cast of the Broadway musical "Hamilton" sang "America the Beautiful" during the pre-match festivities and Luke Bryan sang the national anthem. Although she did not want to talk much about her presentation, Lady Gaga explained that her show was a tribute to diversity. #Entertainment