Kasam Tere Pyaar Ki – Rishi falls in love with Tanuja again?
Tanuja knows how to charm and Rishi finds it difficult not to fall for her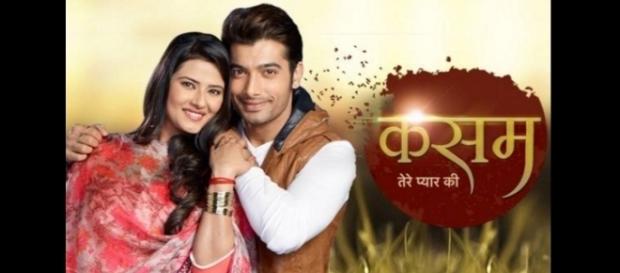 "Kasam Tere Pyaar Ki" which airs on Colors TV is slowly becoming the most loved show of the channel. It has clearly proved to be an underdog as no one really expected a reincarnation story to click so well with the audiences. The current track of "Kasam Tere Pyaar Ki" shows Rishi ( Ssharad Malhotra) being married to Tanuja (Kratika Sengar) but though he is married to her, he has not accepted her as his wife yet. This gives rise to a lot of confusion and disappointments especially for Tanuja. As all Ekta Kapoor serials are full of unexpected twists and turns, the show is no exception and is living up quite nicely to its promise of being exciting, fresh and innovative in its story line.
Rishi and Tanuja are married but are not lovers as yet
Now that they are married, fans had expected to see some sizzling romance between them but nothing of that sort happened since Rano requested Rishi to stay away from Tanuja even post their marriage. But now things are about to change, as per online reports the upcoming episodes will see Tanuja making Rishi fall in love with her with her charming antics. Their wedding will be followed by the famous "Muh Dikhayi" ceremony and this is where Tanuja will let her charm entice Rishi. Tanuja will put on a sleek black dress for the ceremony and every guest is left speechless by her beauty, even Rishi will be shown mesmerized by her beauty. As expected Rano will get extremely angry with this turn of events and will not like Rishi's expression on seeing the decked up Tanuja.
Rano and Malika will try their best to make sure Rishi doesn't fall in love with Tanuja
Not only Rano but even Malika will hate the new equation between Tanuja and Rishi as post this sequence Rishi will be clearly seen attracted to Tanuja. We will have to wait and watch if Rishi will actually fall in love with Tanuja or this attraction will fade thanks to efforts made by Rano and Malika. "Kasam Tere Pyaar Ki" produced by Balaji Telefilms airs on Colors TV Monday to Friday at 10 pm IST. #Television #Celebrities #Gossip