A first look at Salman Khan's much anticipated film Bajrangi Bhaijaan released on Twitter
Bollywood superstar Shah Rukh Khan took to Twitter to release a first look at his friend's much anticipated new film.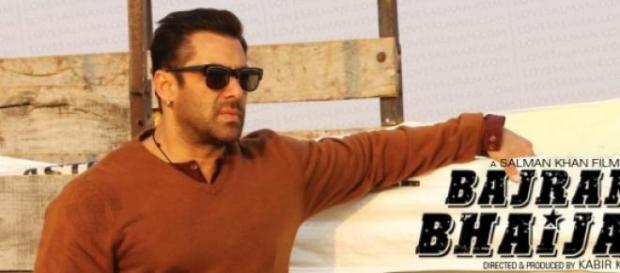 For millions of Salman Khan fans, today is a memorable day as the first look of the superstar's much- anticipated #Film Bajrangi Bhaijaan was released. Another reason to rejoice was the fact that Shah Rukh Khan took to Twitter to promote the first look at Salman's new film.
After their iconic hug at Baba Siddiqui's Iftaar party two years ago and their warm reunion during Salman's sister Arpita's wedding, last year, the bond between Shah Rukh and Salman has created a frenzy of sorts. Earlier in their careers, the two superstars were seen as rivals and their fans would regurlarly get involved in wars of words. The scene has changed remarkably and social media was buzzing with messages from fans rejoicing about the union of the two #Bollywood superstars.
Shah Rukh Khan proved it by promote the first look at Salman Khan's much unticipated upcoming film Bajrangi Bhaijaan, on his Twitter handle, @Iamsrk, with more than 13 million followers.
Shah Rukh Khan tweeted an image of his old friend, Salman, leaving all his fans and followers intrigued, and along with the image he wrote: "I believe Being a brother is bigger than being a Hero. 'Bhaijaan' coming Eid 2015. How do u like the first look?"
The first look at Bajrangi Bhaijaan shows Salman Khan in bearded look with an attractive pendant in the shape of a club dangling from his neck. The club-shaped pendant represents the Hindu God, Hanuman, as the film is based on an inter-religious marriage and promotes secularism. Another Bollywood superstar, Aamir Khan, also tweeted the same image with the caption: "Coming soon…".
Shah Rukh and Aamir Khan have been examples symbols of secularism and respect for inter-religious relationships, since both have Hindu wives. Their sentiments are shared by Salman Khan and the director of the movie, Kabir Khan. The film also features Kareena Kapoor playing an upper caste Hindu girl from a strict and traditional family. Nawazuddin Siddiqui also has an important part in the movie set to be released on Eid, next month.
The alliance between all the three Khans has always been talked about but SRK and Aamir's tweets prove that there is a true union between the Bollywood superstars. Earlier this month, Shah Rukh also visited Salman Khan's house ahead of the court verdict about his hit and run case, relating to 2002. Despite the court declaring Salman Khan guilty, there has been no recent dent to his popularity with millions of his fans eagerly awaiting his new romantic drama Bajrangi Bhaijaan and hopeful that his other films such as Prem Rata Dhan Payo and Sultan will hit the theatres soon. #Celebrities