Jules' Undersea Lodge is located 30 ft down on the bottom of the Emerald Lagoon in Key Largo, Florida, USA. It is known to be the only underwater hotel in the USA and while it was originally a marine research module in Puerto Rico, it opened for the tourism business in 1986.
Only one potential problem, you need to be a certified scuba diver to visit, but this isn't really a problem, as you can attend a course prior to your visit. Anyone interested can head to Jules' Undersea Lodge at 51 Shoreland Dr., Key Largo, Florida, go to their Facebook page or their website for more details.
Read more about this remarkable tourism attraction and accommodation option below.
1
Accessing Jules' Undersea Lodge
Visitors who wish to spend a couple of hours under the sea can enjoy a brief visit, along with the famous freshly delivered, hot pizza. However, a better option is to stay overnight for the full experience. As noted above, you need to be a certified scuba diver to go down there, but Discover SCUBA Diving offers a course to attend before your stay.
2
Arriving in Jules' Undersea Lodge
This is where you will pop up on arrival in the lodge. As previously mentioned, the marine habitat was originally a research laboratory used on the continental shelf off the coast of Puerto Rico. It has been adapted into a comfortable habitat for underwater visitors who enter by the "moon pool" entrance pictured below. The habitat has been filled with compressed air, which prevents the water rising into the space and visitors arrive here and park their diving gear in this room.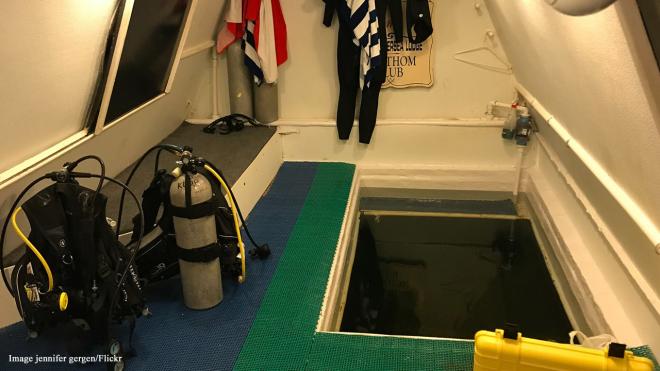 Don't miss our page on Facebook!
© ALL RIGHTS RESERVED