5 unusual attractions inland from the Costa del Sol in Spain
While the Costa del Sol is known for its endless beaches, inland white (and blue) villages hold some fascinating places to visit.
The Costa del Sol in southern Spain is a popular holiday destination, with its endless clean beaches, water parks, aquariums and more. However, a short drive inland will take you to the famous Andalucian Pueblos Blancos (White Villages) where there are narrow, winding and cobble-stoned streets, lined with beautiful white houses. These homes have flowering bougainvillea and geraniums blossoming on their balconies and often you can hear the sound of songbirds as you stroll.
These white villages also have sometimes strange, and often unnoticed [VIDEO], attractions that are worth spending some time there [VIDEO]. First, we visit the hilltop town of Ronda, with its fascinating torture and witchcraft museum.
Then we head to a village literally built into the surrounding cliffs. There is also a town painted Smurf blue, an unusual rocky landscape, and a fascinating crypt.
1
Museo Lara - Calle Armiñán, 29, Ronda, Spain
Museo Lara is a museum set in a historic building in Ronda. It has a wondrous display of historic items. The main floors display collections of old handguns, watches, typewriters, microscopes and vintage sewing machines. The lower floor features paraphernalia relating to bullfighting and movie projectors. However, the cellar is far more sinister with its "Living Inquisition" exhibits, including items used in sorcery, witchcraft and the brutal Spanish Inquisition like the pictured torture chair.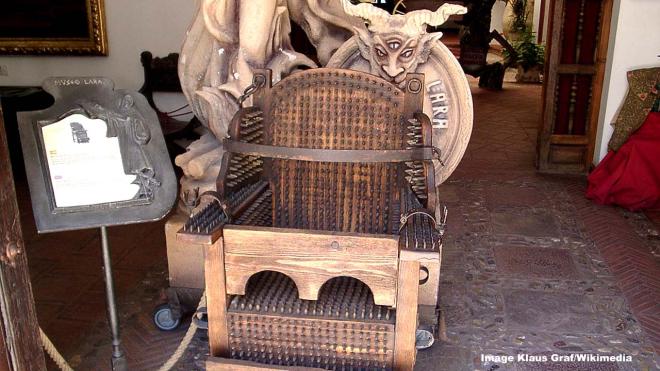 2
Setenil De Las Bodegas - a village built into the cliffs
Setenil de las Bodegas is a white village with a difference. As Atlas Obscura writes, the buildings are built into the rocky cliffs, leaving overhangs of rock over the streets. The Moors built the village in the 12th century, using the surrounding cliffs as a natural protection. The buildings are pretty much the same today, as you walk the winding narrow streets or enjoy a coffee or beer, with the cliffs hanging over you.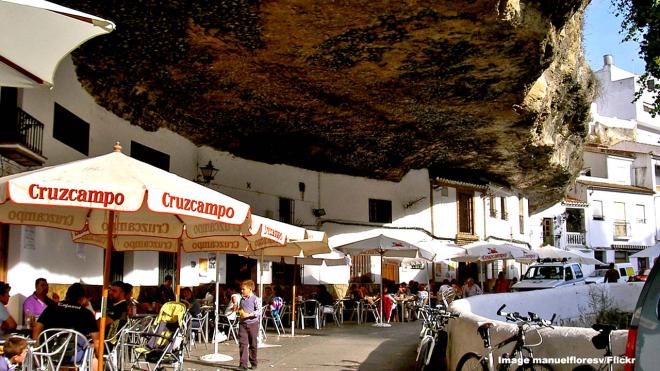 3
Júzcar 'Pueblo Pitufo' - the blue Andalucian village
Located in the mountains above Marbella, Júzcar was one of the White Villages, except nowadays it's all a Smurf blue. Sony Pictures turned the village into Smurfville in 2011 as a publicity stunt for the film "The Smurfs." It was supposed to be painted white again afterwards, but due to the tourists that flocked to the town, or 'Pueblo Pitufo,' the villagers decided to keep their homes a uniform blue with Smurf motifs.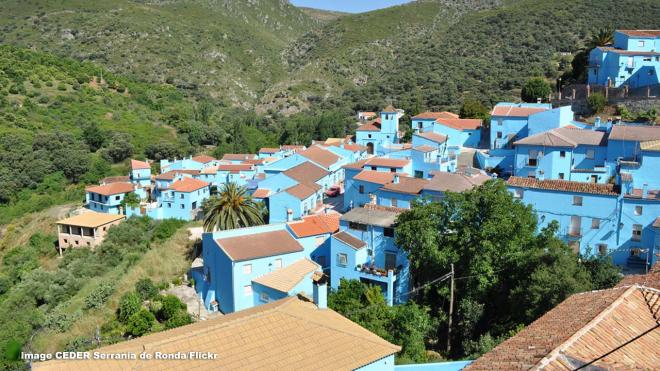 4
El Torcal de Antequera - Geological wonderland
El Torcal de Antequera has a fascinating landscape, made up of karst formations, formed over millions of years. The official website reckons the limestone bed was formed in the Jurassic period, some 150 million years ago. Erosion has created a series of fractures, rocky outcrops and caves that are fun to visit. Some have been named for their similarity to the Sphinx or camels. Visitors should watch out for the rare Spanish Ibex that also explores this area.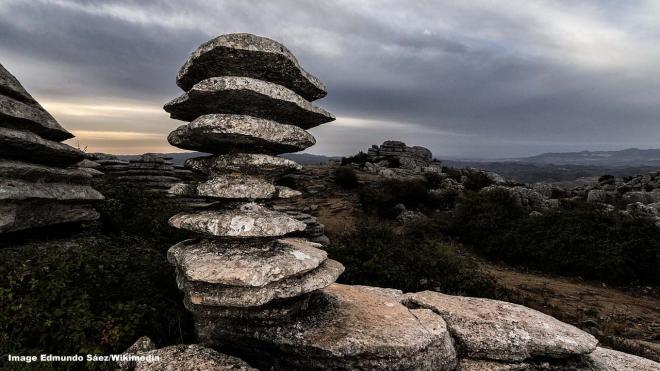 5
Crypt of Santa Maria de la Victoria - Plaza del Santuario, 8 Málaga, Spain
Heading back to the coast we now visit Málaga, where in its historic quarter there is an unusual crypt. Set in the Basilica de Santa Maria de la Victoria, the crypt is decorated with unusual and playful macabre figures of cherubs and skeletons, all in a dramatic black and white. There is also a rare image showing a heavily pregnant Madonna (Jesus' mother Mary, not the singer!)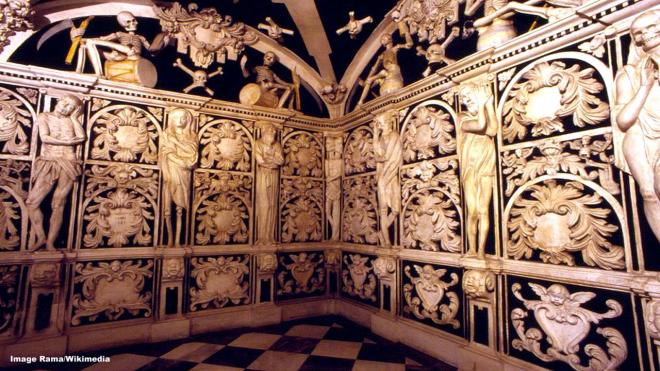 This news article has been verified through:
https://www.atlasobscura.com/places/setenil-de-las-bodegas
http://www.torcaldeantequera.com/
Click to read more
and watch the video
or