McDonald's say Twitter account hacked after anti-Trump tweet goes viral
The fast food chain is 'investigating' after its 150k-follower account sent out a post denouncing the controversial President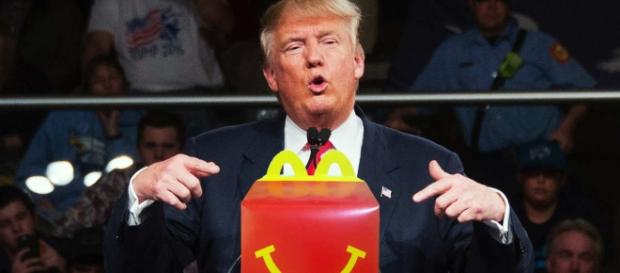 Last summer, Presidential hopeful #Donald Trump posted a picture of himself eating a McDonald's meal on Instagram. Now that image has resurfaced, because the behemoth fast food chain sent out a tweet from its corporate #Twitter account directly insulting now-President Trump. However, the company denies sending the tweet and has since deleted it, claiming that its posting was the result of a cyberattack, which they are now "investigating."
'You are a disgusting excuse of a President'
The McDonald's account tagged both Trump and his more popular Democratic predecessor Barack Obama in its tweet, which called Trump "a disgusting excuse of a President" who has "tiny hands." The tweet added that the people of the McDonald's corporation "would love to have @BarackObama back."
After the Trump tweet was deleted, another one was sent out by the McDonald's account saying that Twitter had contacted them to alert them that the account had been "compromised," and detailed their course of action since the incident in response to it: "We deleted the tweet, secured our account and are now investigating this."
How do McDonald's really feel about President Trump?
So, the McDonald's company's view on Trump is yet to be seen.
He clearly loves their food, since he's frequently made positive reference to it on his social media accounts. Where Michelle Obama worked tirelessly to tackle the catastrophic obesity problem facing America, Trump is happy to perpetuate it by happily advocating the fast food chain on Instagram. He ate a McDonald's meal to celebrate being nominated the Presidential candidate for the Republican Party in 2016. What kind of message does that send?
And while the publicity team at McDonald's have been quick to announce that the anti-Trump tweet was the work of an anti-Trump hacker, they didn't jump at the chance to voice their support for Trump, so maybe they're not as pro-Trump as they're letting on. They want us to know their account was hacked, but they don't want us to know how they feel about Trump.
It's a company, not a person, so their stance on Trump will be purely a business tool.
Trump promoting McDonald's' food will bring in Trump supporters, but could lead some anti-Trump liberals to boycott the restaurant, so it's a good and a bad thing, and the aforementioned PR team are probably busy scratching their heads and weighing up the pros and cons. Nothing could really bring McDonald's down at this point, but a strongly voiced opinion about such a harshly divisive commander-in-chief is probably what it would take to do it. Having no public opinion about Trump at all is probably the best thing for business, since everyone pretty much goes there anyway so there's very few new customers left to bring in, and there's no reason for a boycott. #Mcdonalds