Female Antifa activist physically assaulted and trolled by white supremacists
Protester at anti-Trump rally in Berkeley, CA punched in the head and then trolled on social media by the far right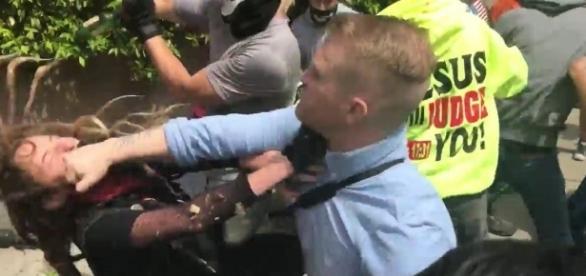 The proverbial fan was hit by pro- and anti-Trump protesters on Easter Saturday when they came to blows over ideology in Berkeley, California. From the travel ban to the global Women's March, Trump has managed to garner consistent protest from a wide range of cultural and political demographics during his presidency, and in Berkeley, it seems the Antifa movement is flaring up to combat far-right, pro-Trump sentiment in their area. Political tension has been rife in the town since riots broke out at UC Berkeley in February in response to Milo Yiannopoulos, flame-fanner of the far-right, arriving to give a talk at the college..
Now images and clips have surfaced of Louise Rosealma, a female Antifa activist, getting punched in the head by a male white supremacist when the protests turned violent. The perpetrator is alleged to be Nathan Damigo, co-creator of Identity Evropa. The 'about' section of IE's Facebook page lists it as "an American based identitarian organisation dedicated to promoting the interests of People of European Heritage" and their website identifies Cultural Marxism as "the roots of a destructive culture".
Trolls take to social media
Despite the intellectual tone of such web pages, supporters of Damigo and sympathisers of the far-right have since Saturday taken to Rosealma's #Social media to troll her photos and posts.
Comments include mockery of her earlier pornographic career and her ideological stance with one user commenting "You want equal rights you got them".
It is clear from some photo memes posted to her cover photo that said memes were collated using images attained by accessing Rosealma's personal or private photos. Others criticise Rosealma for having posted a Facebook status in the run-up to the protest which reads: "Headed to Berkeley...Nervous af [sic] but determined to bring back 100 nazis [sic] scalps" in comedic reference to both the attendees and a quotation from the Quentin Tarantino film Inglourious Basterds.
GoFundMe page set up for medical funds
Meanwhile, a friend of Rosealma's set up a GoFundMe campaign to raise $80,000 for medical treatment following immediate medical attention for a concussion. The exact medical necessity for the $80k is not specified, however, the friend who set up the campaign, Josquin Dejean, stated on the page:.
"Her identity, home and cell phone numbers, home address, emails, friends and family's residences, extremely sensitive and endangering occupational material have all been doxxed and spammed across every unspeakable online message board responsible for Donald Trump's presidency. The poor girl doesn't have a place on earth to hide that hasn't been compromised and it doesn't appear that the onslaught is going to end anytime soon."
The campaign has also become a target for trolls and far-right commentators, both in the comment section and in the donations. A person by the alias CAPT. CHAOS has repeatedly shared links to sites containing Rosealma's work in pornography along with a $5 donation. The campaign is currently still trending according to the website. #Anti Trump #Physically Assaulted