Terrorists Attack in Nagrota, Jammu Region, Claims Lives of Seven
Terrorists Strike Army Unit - Kills Seven Army Personnel, including two Major-rank officers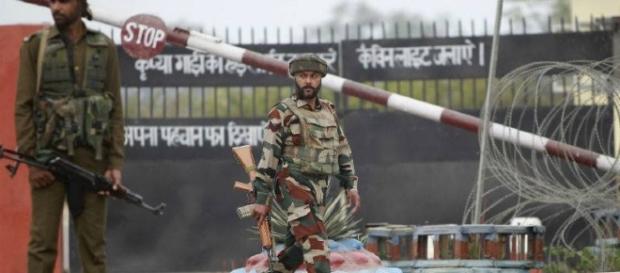 In a terrorist intrusion, two Major-rank officers and five army personnel were killed after militants attacked an army artillery unit in Nagrota on Tuesday on the outskirts of the city, Lt Colonel Manish Menta, Defense CEO said. He said all terrorists were in #Police uniform and were killed in the encounter.
Terrorists Attack in Police Uniform
"Three heavily armed terrorists in the police uniform entered in offices' mess building complex, fired heavily and attacked with grenades. 12 Jawans, 2 children, 2 ladies were inside that" Mehta further said. Militants stormed the 166 artillery unit.
BSF DG KK Sharma informed that the terrorists have infiltrated through a small tunnel in the border area.
BSF now has that technology to detect tunnel, Sharma added. The terrorists were gunned down by the BSF after the encounter that lasted for several hours. Four security personnel, including BSF DIG, were injured in the said terror attack.
Terrorists Storm The Army Camp
Since, the first time after Uri attack, the terrorists have managed to storm into the army camp in Jammu and Kashmir. The attack was mounted at 5:30 am when the guards were changing their duties. A group of terrorists, dressed as police officials, lobbed grenades and fired indiscriminately on the sentries. However, wives of two army officers helped in averting the major hostage crisis during the encounter.
Meanwhile, chief Minister of Jammu and Kashmir Mehabooba Mufti condemned the attack, by terrorists, on security forces.
Responding to the terror attack, RK Singh, The Home Secretary said that newly appointed army chief General Qumar Javed Bajwa send this message to India. He further pointed "we need to take note the fact that this is the new Army chief sending this message."
Nagrota is army's headquarter that comprises of 16 crops. The district administration closed all schools in the region whereas the Jammu-Srinagar National Highway also closed for traffic in the area. This attack by terrorists is the latest major attack in the Jammu and Kashmir Region. With terrorists attacking the army units and Pakistani forces repeatedly calling for ceasefire, Indian Army has to be prepared for subsequent circumstances. #Military #Terrorism