The cold night of Southgate and England National Team
In an international friendly match against Spain, the Three Lions score first but suffer the draw in the final minutes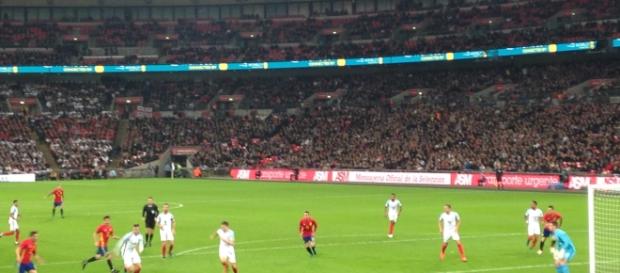 November 15. Crowded Wembley. 83.716 supporters. It was the night of England. In an international friendly match against Spain, the TthreeLlions had everything going for it. Including the team, who seemed more than willing and prepared. The Brits on the bleachers did not disappoint. Cries of supporters, singing and waves made the game a real entertainment. Whoever thought that the Brazilians were the biggest lovers of football was very much wrong. What made thousands of English families leave their houses on a cold Tuesday night to watch a friendly match? The England team, of course! No matter against who, they will always be there for England.
Children, flags, painted faces. The scenario that every football lover likes and deserves. Peace in the game and in the stands, but unfortunately (or luckily for Spain), the result did not go as expected.
The 48 bright minutes
In the middle of the white and red cheer, there they were too - the Spanish. These people came to support their team. Two renovated national teams - new generations and the fourth game of the newest lions coach: Gareth Southgate. Everything was going well. Adam Lallan, the Liverpool attacking midfielder, opened the scoring for England in the 9th minute, from a penalty. From the beginning, they seemed to be the owners of the house. Spain needed motivation. Second half, 48 minutes, Jamie Vardy and his talent scored two for the lions and put the team ahead and even more confident.
England 2x0 Spain. All was going well in the team of the Queen.
Iago Aspas and the unlikely ball
Southgate celebrated quietly and Wembley was lit by the lights of their fans' cell phones. But if Vardy was considered the man of the game and Southgate relied on the result, it was the former Liverpool striker, Iago Aspas who spoiled the English game, scoring in the 89th minute and feeding Spanish fury. When all seemed decided, in the final additions, Isco also scored and drew the game! This was to the joy of Spain, the cries of the Spaniards, the shock of the English and the disappointment of Gareth. In the finals minutes of the game, Wembley watched a different Spain for the first time. Too confident - England fell into its own trap. Final result: 2x2.
Southgate Cold Night
The cold English night ran crooked. Lallana left injured, but it was already under control. Sturridge, Liverpool striker, was on the bench and there he stood, watching from a distance as his team suffered the draw. Why he didn't play is a question that is in 'the air'.
Southgate left the field disappointed as if he did not understand what happened. The Three Lions fans were disappointed but football lovers had the desired night. Two great national teams - in a big stadium and four goals. They want this, they want excitement.
Gareth Southgate is about to face the reality if he is or not what the England team need. Let's wait for the scenes of the next chapters as this is just the beginning for the new three lions. #Togetherforengland #InternationalFootball #EnglandTeam