Formula 1, 2016: why Hamilton will deserve his Tetra
The 2016 F1 season was a great show and both Mercedes drivers, Nico Rosberg and Lewis Hamilton, should be praised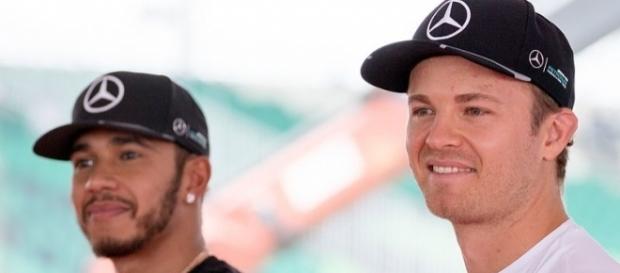 The best don't always win, but that doesn't mean the victory was unfair. Nico Rosberg won the F1 Drivers Title and people started discussing his merit. The point is that the german delivered more than enough so we can say he deserved his title. Yes, you can say that Hamilton was a better driver, but that is not how it works and never was. For sure you wouldn't say that Damon Hill did not deserve is 1996 title, even being really less skilled than Schumacher (and perhaps even J. Villeneuve).
We live in the conspiracy theories age. For those who like simple and quick answers, the invisible hand manouvering in the shadows, and Mercedes that conspired to give the title to the german driver, here is the answer:
Lewis lost the champioship in Baku and Singapore.
Rosberg suffered five-place grid drop in Austria, lost 3 points in Silverstone to a technical problem, and got tough penalties in Germany and Malaysia.
Now, as there are still people who enjoy reality, let's get to the facts.
Until Spa/14, Rosberg and Hamilton were almost equalled, and the 2014 season was being really great fun to watch. However, after that crash, Hamilton gained the upper hand. It lasts until this day, really. Lewis grabbed the final stint of 2014 and was clearly the number in 2015.
Why does Rosberg deserve the title
Rosberg showed great mental strenght in 2016. One could say, after USA/15 and that "cap throwing" scene, that he was finished and would become permanently Mercedes number 2. But after that, he went on to 7 straight wins. (Some say Hamilton was not giving 100% on those final three 2015 races, but we don't remember Schumacher lifting his foot on those races after becoming champion, like in 1995 or 2002.)
Rosberg accomplished something than only Fangio, Hulme and Prost achieved before.
They were able to become champions beating a champion team mate, both being in the same team in their both winning seasons.
Fangio won 1951 alongside Nino Farina, previous year champion, both in Alfa Romeo;
After trailing behind his "boss" Jack Brabham in 1966, Denny Hulme took the title for himself the following year:
Prost recovered from 1988 defeat and beat Senna the following year (both in McLaren, in both years).
One could say that Farina and Brabham were not at their peak in 1951 and 1967, but you would need someone like Prost, analytical, resilient and determined, to beat Senna on his ground. And that's what Rosberg showed this year.
Moreover, you didn't see Rosberg being humiliated by Hamilton. The difference between them in qualifying was just 0,14. Regarding fastest laps, Hamilton only scored 3 against Rosberg's 6.
Hamilton strenghtened his status
The best driver can't and doesn't win always. Everyone would agree that Schumacher would have collected 10 or more titles, then, at least after 1994.
This year Rosberg did more than enough to earn his World Title and be in the world champions list, alongside his father.
But a season like this reinforces Hamilton status. It was quite the opposite of Vettel in 2014; the Brit has shown again that he is still Mercedes first "bet", both in qualifying and race, and he is getting to his maturity (much like Senna became "perfect" 1991 onwards) and he will be a deserving Tetra Champion in the future, has we mentioned a few days ago. In fact, the way he tried to win the championship in Abu Dhabi only reinforces this; he is there to race according to the rules, and the team should just let them race. (In the end, Rosberg acknowledged there was nothing wrong with Lewis tactics.)
Let's finish with a polemic note: if there was someone who might not have earned is eventual championship, it would have been Eddie Irvine, in 1999 - who needed help not only from Schumacher, but also from Mika Salo while the german was away. #Lewis Hamilton #Formula 1