La Liga: Real Madrid expects a difficult game against Celta Vigo for the Spanish League
Cristiano Ronaldo's Real Madrid plays this Sunday in Vigo to maintain their hopes regarding the Spanish title.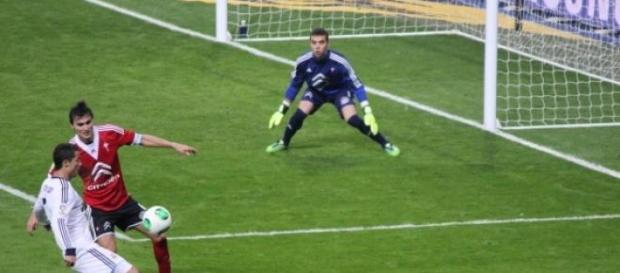 After a hard and complicated battle against Atletico Madrid for the Champions League quarter-finals that took place yesterday, Real Madrid's focus is now La Liga and the Spanish national title. The team managed by Carlo Ancelotti will have a difficult game against Celta Vigo. Although currently being in 10th place, Celta Vigo is a complicated team at home and they create a lot of difficulties to their opponents. Proof of this is the defeat that Real Madrid suffered against Celta last season (2-0).
The game gains even greater difficulty because of the recent injuries that have affected fundamental players of Real Madrid like Luka Modric, Gareth Bale and Karim Benzema.
In addition to this scenario, Real Madrid will have to face the match against Celta still quite worn from the second leg game against Atletico Madrid which ended with the victory of the Merengue squad 1-0. Real can't lose this match under the risk of letting Barcelona escape. In fact, Real has to expect for a mistake from Barcelona in order to regain the championship lead that had a few weeks ago. The Catalan squad faces Espanyol this Saturday in the Catalonia Derby.
The game history between Celta Vigo and Real Madrid held at Balaídos (Celta Vigo's stadium) for the Spanish League in recent years shows some interesting and curious results. It's worth it to point out that Celta Vigo played some years in the lower divisions. Last year, Real lost 2-0 but in eleven previous confrontations between these two teams, Real Madrid won six consecutive times and Celta Vigo won five consecutive times.
Real Madrid's victories happened between 2002 and 2013 always by a one goal difference, except in 2003 which ended with a 2-0 win for Real. On Celta Vigo's side, we have to highlight three big wins. In 1997 it was a 4-0 win; in 1999 the Galician squad won 5-1 and in 2001 the final score was 3-0. One thing is for sure this weekend, Barcelona will play first and in case of victory for the Catalan side, the pressure will increase a lot for the Merengue side. #Football #Cristiano Ronaldo