2014-15 Premier League Preview: Manchester City
Preview of Man City's upcoming season in the 2014-15 Premier League with less than one month to go.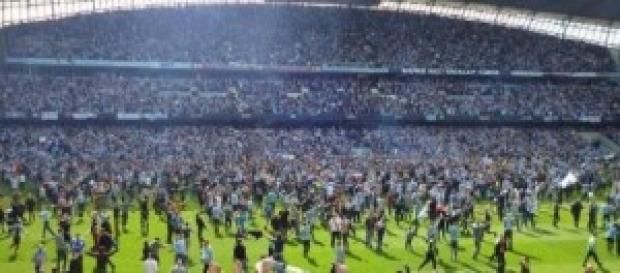 After the incredible drama on the last day of the 2011-12 season, when #Manchester City won the #Premier League in dramatic fashion, their 2-0 victory over West Ham on the last day of last season seemed unspectacular but capped off a fantastic double in Manuel Pellegrini's first year in charge. What City's latest title win had in common with their first was that it involved an incredible comeback when all hope seemed to have gone. After defeat to Liverpool at Anfield most people were ready to send the trophy to Merseyside but great spirit and determination from City allowed them to take advantage of Liverpool's dramatic slip ups and end up triumphant.
Some may say, perhaps harshly, that Man City were the least worst of the top teams last season as none of them were able to show that they were grabbing the league by the throat at any time. Arsenal led, Chelsea led, Liverpool led and City hardly ever led except for when it mattered. Looking back though, there were many standout performers including Edin Dzeko, Samir Nasri, Fernandinho and as ever Yaya Toure - a player that all City fans would have been delighted to hear say that he was staying after much speculation he might leave.
There were many high points during the season including the double over Manchester United for the third year in a row, annihilations of Arsenal and Tottenham whilst not forgetting the League Cup win but it is easy to forget now that there were also plenty of moments that there were not so enjoyable and still represent some level of concern.
It might be expected that scoring over one hundred goals would lead a team to be a bit leaky at the back but at times, especially in the first half of the season, City's defending bordered on reckless on a whole list of occasions. There were notable defeats at Aston Villa and Cardiff whilst a calamitous mix up at the end of the game at Stamford Bridge allowed Torres to nick in and score a winner in injury time for Chelsea. Many will also remember Martin Demichelis' woeful error against Barcelona at the Etihad and although he improved considerably you wouldn't have anywhere near as much confidence in him as you would Vincent Kompany. It should of course be remembered in the issue of fairness that Kompany made a terrible error too against Liverpool which looked to have cost City the league so no-one in the team was flawless when it came to defending last season and a reliable, confident centre back would be just the ticket if they are to improve in that area of the team.
Looking at the transfer business City have already done they are starting to get close to the limit which has been placed upon them and have so far made what you would call 'squad signings' in the form of Fernando, Bacary Sagna and Willy Caballero, although there is the suggestion by some that the latter could challenge Joe Hart in goal.
The expectation now is surely that they will make one big, final signing that will make a marked difference to the team and although Eliaquim Mangala is mooted to be close to a move nothing has been confirmed yet. Regardless of what happens City fans will be hoping that there is one more big signing because a failure to consolidate and improve in the transfer window last time they won the league led to a poor season which saw the end of Roberto Mancini and that is something that certainly is not wanted especially with a likely improvement to come from Chelsea.
In conclusion, going into this season all eyes will be on how City perform once again in Europe and a better performance has got to start being expected soon as they've had enough time to adapt to the Champions League now. With regards to the league I think that unlike last season there will be a two horse race most of the way through which City will be locked in alongside Chelsea and I think very little will decide it. No injury for Sergio Aguero and a return to form for Alvaro Negredo would be very welcome for all City fans but in the tightest of races I think Chelsea may just come out on top. 2014-15 Prediction: 2nd. #Football