What caused Warren Beatty's Best Picture blunder?
'And the Oscar doesn't go to...' - major mishap leads to 'La La Land' disappointment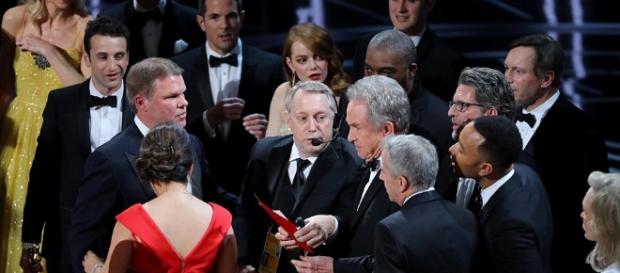 Last night at the Oscars ceremony, "La La Land" was accidentally named Best Picture instead of the true winner, "Moonlight." The "La La Land" people took the stage to give their acceptance speeches when the awards show's producers jumped in to clarify the error and leave looks of disappointment and bemusement on the cast and crew of the musical's faces. So, how the hell could this hiccup have happened? How do you read the title on the card wrong? Well, here's how.
Each category has two envelopes
There are two people who count the Academy votes and know who has won in each category before the Oscars show takes place. These two, Martha Ruiz and Brian Cullinan from accounting firm PwC, each have their own set of envelopes for all categories, so if something happens to one set, they have backups.
So, after Emma Stone won the Best Actress award and Warren Beatty was about to step on stage to present the Oscar for Best Picture, he was given the backup Emma Stone card by mistake. Beatty's look of confusion was misconstrued as disdain for the #Film, like he didn't believe it deserved the award, but he was actually confused because it had Emma Stone's name on. #Celebrities #Cinema