Erdogan should cancel meeting with Trump, Turkish veteran diplomat says
US President Trump and Turkish President Erdogan to meet in DC on Tuesday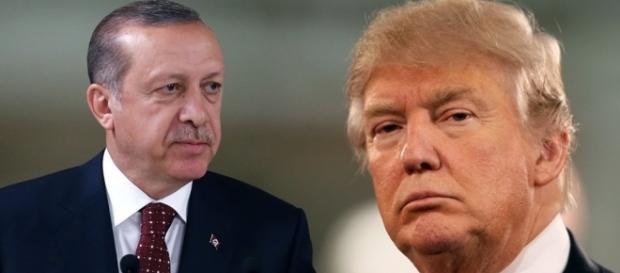 President Recep Tayyip Erdogan of Turkey will be visiting Washington DC on the 16th of May, where he will meet US President Donald Trump [VIDEO]. The visit became critical as Washington announced that Kurdish militant group YPG will be supported with heavy weapons by the US army. Turkey considers YPG as a terrorist organisation, an outrunner of Kurdistan Workers' Party (PKK). Besides a soft statement made by Turkish Foreign Ministry, Mr. Erdogan's reaction to such support can be summarised with a short sentence made before his visit to China. "We hope this mistake will be corrected before our Washington visit" Erdogan said.
A "fragile" matter
Turkey's former ambassador to Bonn, Mr.
Onur Oymen thinks "no correction" will be made by the Trump administration. Oymen says before seeing steps taken by Washington to solve such a "fragile" matter for Turkey, it's wrong for Ankara to confirm the schedule of the visit. As an experienced diplomat and MP, Mr. Oymen says "cancellation" of the meeting should be the right alternative if US shows no will to satisfy Turkey's concerns.
Cooperation?
"If there's such a delicate case in your agenda, you should pay effort for solving the issue by setting diplomatic meetings before the visit. And if no solution is available, you need to cancel your visit. Former US ambassador in Ankara, Eric Edelman wrote about PKK's support to YPG in a New York Times article in 2015, which is a proof of close cooperation of the two organisations. Also Amnesty International declared YPG as a war criminal in a report in 2015" Oymen says.
Confronting ISIL
YPG (People's Protection Units) is the armed branch of PYD (Democratic Union Party), a Kurdish political organisation in Syria. As a Kurdish movement, PYD and YPG is a major partner of coalition forces confronting ISIL in the northern part of the country, known as Rojava. Turkey's main concern is avoiding a seperate Kurdish state to be founded besides its borders. Ankara considers PYD and YPG as terrorist organisations and the main partner of Kurdistan Workers' Party (PKK), a militant group fighting against Turkey demanding a liberal Kurdistan in the region. Head of PKK, Abdullah Ocalan is in prison sentenced for life. The United States and European countries consider the PKK as a terrorist organisation, but not the PYD and YPG. The Trump administration now decided to support YPG with heavy weapons and #Turkish President #Recep Tayyip Erdogan's two days visit to Washington DC will be crucial under the shadow of the this decision. #president Trump