PTV Sports live cricket streaming Pakistan vs Afghanistan ICC World Cup Warm-up
Don't miss our Facebook page!
Like Blasting News page on Facebook: we will keep you updated with all the latest news.
'Gunturodu' total collections Ap/Tg and worldwide box office details: - Manchu Manoj's 'Gunturodu' total collections at the Ap/Tg and worldwide box office will be projected here. Before checking 'Gunturodu's' total collections, let's see the movie's details. Directed by SK Satya, the movie has Manchu Manoj and Pragya Jaiswal in the lead roles and the music of the film was composed by DJ Vasanth. Atluri Srinivas produced the film under Claps and Whistles entertainment banner.
The film maintained a good buzz among the audience with its promotional videos and it is slated for release worldwide on March 3rd, 2017. So let's check projected collections of 'Gunturodu' below.
'Gunturodu' total Ap/Tg box office prediction
The movie is going to compete with 'Dwaraka' and 'Kittu Unnadu Jagratha' tomorrow at the ticket window, so it is going to have a moderate release across two Telugu states - Andhra Pradesh and Telangana.
The first day collections of the movie were estimated to be around Rs 1.5 to 2.5 crores share and the 1st-weekend collections will be around Rs 4 to 5 crores share. Based on word of the mouth, the movie can collect anywhere between Rs 6 to 12 crores share from the Ap/Tg box office.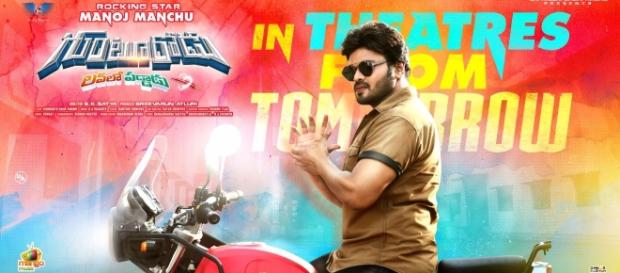 'Gunturodu' overseas and rest of the areas collection
The film was estimated to collect between Rs 2 to 4 crores share from the International markets and rest of the India. In the USA, the movie can collect between $10k to $100k based on word of mouth for the movie.
Manchu Manoj's films didn't perform well at the overseas box office until now and hence we need to wait and see whether he will prove himself this time or not? in forthcoming days.
'Gunturodu' total worldwide collection prediction
The total worldwide collection of 'Gunturodu' was estimated to be around Rs 7 to 16 crores share worldwide.
As the film was a mass entertainer, the expectations were huge among the audience. So let's wait and see how the movie performs at the ticket window in forthcoming days.
Nonetheless, Megastar Chiranjeevi's voiceover for the movie is going to be a special attraction for this mass entertainer.
Click to read more
and watch the video