Kanye West and Drake Collaboration in the Works
West reveals he's been "having fun" in the studio with Drizzy in a long-speculated collaboration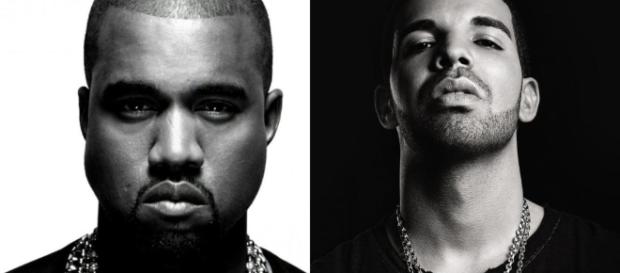 Speaking to Vogue about the launch of his Yeezy collection launched on 7th September, Chicago rap mogul Kanye West revealed he's been "having fun" in the studio with his contemporary Drake. "We're just working on #Music, working on a bunch of music together, just having fun going into the studio," he explained, letting slip that, "We're working on an album [as well], so there's some exciting things coming up soon."
Despite having not announced a release date, the news follows a Los Angeles billboard spotted last month; teasing the duo's long-speculated project, it featured both West's GOOD Music and Drake's OVO logos, sending rumour mill into overdrive with the hint of a joint venture.
Drake & Kanye West's mystery project
Confirming fans' suspicions, there's no doubt a Yeezy-Drizzy collab will be one of the most hotly-anticipated album releases on the horizon. Fulfilling an enduring desire to team up with Drake, Yeezy detailed how, "The 'Wolves' [a track on West's 2016 album 'The Life of Pablo'] came from a conversation that me and Drake had, when [we] was gonna do an album together, and the album was called Wolves," he told Breakfast Club in 2015 of the duo's planned extended project. It's a cert that West's polished production fused with Drake's more laid-back, dancehall sound is going to be a hit.
However, both rappers are no strangers to a collaboration, with West sharing the mic with Jay Z for 2011's 'Watch the Throne', and Drake – real name Aubrey Graham – joining forces with Future for US Platinum certified mixtape 'What a Time to Be Alive'.
Exciting reports of the pair's collaboration aside, the announcement overshadows some not so good news for the rappers respectively. A jewellery robbery from the Canadian rapper's tour bus in Arizona took place of Tuesday, with $3 million worth of jewels stolen. Property of his DJ Future the Prince, a bag of jewellery was later uncovered by police and a 21 year-old stagehand at the Talking Stick Arena where the hip-hop artist was performing has been arrested. On top of this, West's Yeezy show at New York Fashion Week has been dubbed a "hot mess" and "disastrous" by critics, as it was plagued by unbearable heat, broken heels and even fainting models. #Celebrities #Fashion