The Costa del Sol is a popular coastal string of seaside resorts in the province of Malaga, stretching between the Costa Tropical in Granada province all the way through to the Costa de la Luz in the province of Cádiz. The coastal highway mostly hugs the beach all along the way, offering stunning Mediterranean views. While most of the popular resorts started life as small, traditional fishing villages, they have become a world-renowned destination, while retaining some of their former Andalucian charm.
The beautiful #whitevillage of #Zuheros. Rated one of the most beautiful white villages in #Andalucia #Spain. Easy to see why. Stunning location with great walks. One of my favourite places – I keep going back! pic.twitter.com/sqJqPU0nxK

— Rom | Tapas in the sun (@tapasinthesun) February 18, 2019
Inland from the coastal highway are the beautiful and iconic "Pueblos Blancos" or White Villages, always a perfect day-trip from the beach. As spring has officially sprung its way into southern Spain, now is a great time to visit, prior to the teeming crowds and scorching heat of the summer months in July and August.
Baby Bornean orangutan plays with her mother at Bioparc Fuengirola in Spain, Sept. 12, 2016. (Jon Nazca/Reuters) pic.twitter.com/tbx5BE6sQF

— SIBOMANA Jean Bosco (@sibomanaxyz999) February 4, 2019
Many of these resort towns have popular attractions, some of the best of which are listed here.
1
Tivoli World – Avda Tivoli s/n, Arroyo de la Miel, Benalmadena, Costa del Sol
Tivoli world is an entertainment and theme park offering something for the whole family. Relax in the pretty gardens among fountains, take exciting rides, enjoy shows in the open air theatre and watch concerts in various spots throughout the park during the summer months. Restaurants include Texas Grill – a Wild West diner – enjoy Chinese food, pizza, ice cream and burgers at the many eateries. Planet Museum is fun for the kids, where they can take part in science experiments.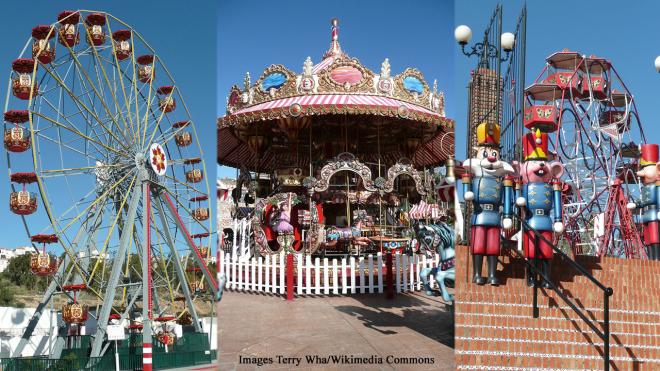 2
Selwo Marina - Parque de la Paloma s/n, Benalmadena, Costa del Sol
Selwo Marina is also located in Benalmadena and has different levels. Dolphin Encounter is an educational programme where visitors can enjoy the antics of the animals and learn more about them. Meet the Penguins is set on Ice Island, a frozen area in the heart of the Costa del Sol, where you can see the cute birds in a habitat similar to that of the wild. You can also swim with sea lions. The new VIP Visit allows visitors to most closely meet dolphins, penguins, sea lions and other species.
Don't miss our page on Facebook!
© ALL RIGHTS RESERVED