5 odd news stories in the media this week
With all the news relating to the Brexit disaster and US President Donald Trump's latest antics, some fun and often weird stories get lost in the mix.
With all the news currently doing the rounds [VIDEO] about Brexit, President Donald Trump's latest gaffe and dangerous weather conditions, some interesting stories slip through the cracks.
The following odd or weird stories are worthy of note [VIDEO], including a tiny van transporting a huge Christmas tree; a rubbish bin flies at someone's windscreen, caught on their dashcam, a cow rescued from a manure bin with a winch, a woman who won twice on her scratch-off tickets and Burger King's offer of a one cent McDonald's Whopper.
1
Giant Christmas tree on tiny van caught on police cameras
Devon and Cornwall Police were shocked to spot a huge Christmas tree on the roof of a tiny van on the A38 dual carriageway on Saturday. It was caught on the CCTV cameras. PC Jane Bickley posted an image of the unusual sight, saying everyone knows this is a hectic time of year but drivers should always consider the suitability of their vehicle. One person on social media called it "seriously stupid" while others did point out the driver had a high-vis jacket on the top end of the tree.
Shocking image spotted on the A38 by one of our speed camera vans over the weekend. We all know it's a hectic time of year in the run up to Christmas...but please consider the suitability of your vehicle if transporting such a large load pic.twitter.com/VFH1zjg8nQ

— PC Jane Bickley (@Safety_Cam_Ply) December 4, 2018
2
Rubbish bin flies into windscreen on Texas highway
Kathy Lanham was driving on I-635 in Dallas when a rubbish bin flew over lanes of traffic, striking her windscreen. While the bin didn't cause any damage, it did leave her vehicle splattered with mulch and needing a wash. Lanham said the bin escaped from a landscaping truck after the driver had misjudged whether the mulch was sufficient to weigh it down. She caught the incident on her dash camera, footage of which can be seen below.
3
Cow rescued from manure trough by fire-fighters
On Tuesday, firefighters were called out to the New Hampshire Agricultural Experiment Station at the University of New Hampshire to rescue a cow that had fallen into a manure trough and was stuck. Durham Fire Chief Dave Emanuel said the cow had fallen between the grates into the trough that carries cow manure out of the barn. Ruby, the two-year-old Holstein cow, weighs 1,200 pounds, and they had to use an elevator to rescue her. She then needed a thorough wash.
4
Delaware woman gets lucky twice
Some people have all the luck, after a Delaware woman won big on scratch-off lottery tickets twice. Stephanie Robinson, 22, said she normally buys two of the $5 tickets but decided to splurge on two additional Willy Wonka Golden Tickets. She won $250 (£196) on one of them and was thrilled, but then found another of the tickets had won her an amazing $40,000 (£31,383) jackpot. She is planning on using her lucky win to buy a new car and get a new apartment.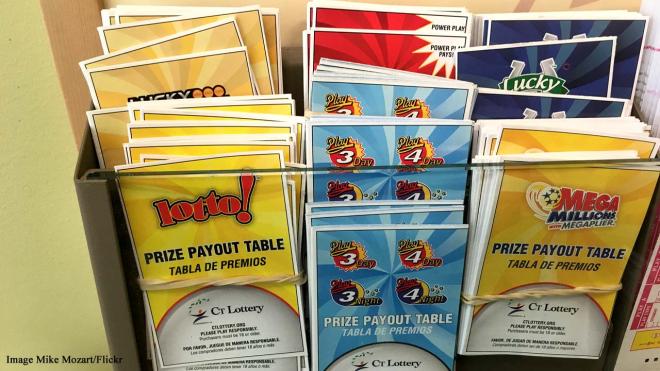 5
US Burger King offers McDonald's Whopper burger for only one cent
In their rivalry with the popular fast food outlets, Burger King in the US came up with an original way to get customers to download its BK app. If anyone is within 600 ft of a McDonald's outlet, they can then unlock a deal giving them a Whopper burger for only one cent. The app then gives them directions to their nearest Burger King to collect their one cent burger, cutting out McDonald's completely. The deal is running until 12 December and can only be used once.
This news article has been verified through:
https://www.bbc.com/news/uk-england-devon-46454654
https://www.upi.com/Odd_News/2018/12/05/Firefighters-hoist-cow-out-of-manure-trough/9271544024455/
Click to read more
and watch the video
or