Jackie Chandler, 41, and her husband Gary Sprake, 43, were in a Lidl supermarket in Waterlooville Hampshire on September 29 with their two teenage daughters. They were making a few purchases, which happened to include a bottle of rhubarb-flavoured gin. As Chandler stood at the till, ready to pay for their purchases, the cashier demanded ID from their 14-year-old daughter, Ella-May.
The reason for the ID check was that there was a bottle of gin in the family's shopping trolley. The Lidl cashier then refused to sell the couple the bottle of gin, making Chandler angry and frustrated.
Mother-of-two angry after denied bottle of gin
When you are in your 40s, you never expect to have problems buying alcohol, as you are way over the limit of being "underage." However, Chandler and Sprake experienced just that at the Waterlooville Lidl supermarket.
Lidl's cashier refused to sell Chandler the bottle of rhubarb-flavoured gin because her eldest daughter was underage. Chandler calls the supermarket's ID policy "ridiculous" after the police were called to Lidl to calm down a row between the mother-of-two and the cashier.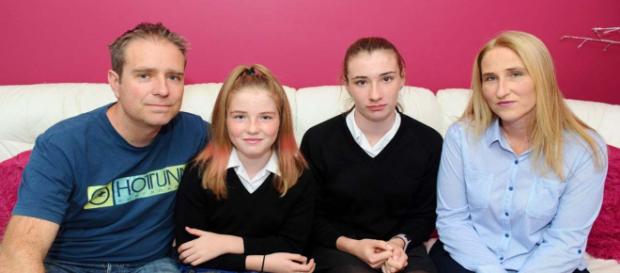 Chandler said that despite the fact she had told the cashier the gin was for her husband and herself, she was denied the purchase.
It is fair to say thoughts on #Lidl's 'Think 25' policy were dividedhttps://t.co/CUZ6Aax1E3

— The News, Portsmouth (@portsmouthnews) October 17, 2018
Chandler said the couple was shocked as they thought the cashier was talking to them when asking for ID. When they found out the cashier was referring to their daughter, Chandler thought he couldn't be serious.
She stressed that they would never let their daughter drink alcohol, let alone buy a bottle of gin.
As reported by Metro, as Chandler tried to make their case with the male cashier, a manager was called to support the employee and Chandler's husband phoned the Lidl head office to find out why this was happening to them.
Lidl shoppers get impatient over Chandler's situation
Chandler said that at this stage, the queue had been waiting for 15 to 20 minutes to get to the till and they weren't happy.
She said some of the shoppers were telling the family to move on, while another offered to make a citizen's arrest on behalf of Lidl. She went on to say another woman, who saw the queue wasn't moving, picked up their shopping, throwing it on the floor.
The father described the event as ridiculous https://t.co/tRuRJ7ezZb

— Metro (@MetroUK) October 17, 2018
As reported by The News, the row escalated, leading to someone calling the police. She said an officer she spoke to could not believe he had been called out over the situation, as they were doing no wrong.
She joked with the officer, saying it must have been his easiest call-out of the day. In the meantime, Gary tried to buy the rhubarb-flavoured gin himself at another till, but again was refused. He said he and his wife were "victims of stupidity," adding that Lidl should be ashamed over the incident.
Sprake went on to wonder where Lidl draws the line on their policy. He asked if he was there with a four-year-old child in a pushchair, would he have the same problem trying to buy gin?
He then asked in the unlikely event of him visiting that store again, would he be unable to buy alcohol because the staff knows they have an under-age daughter, adding that the whole incident was ridiculous.
As for Jackie, after leaving Lidl with no shopping, she feels too embarrassed to ever return to the supermarket. She added that their children are now worried about going shopping with their parents again, as they feel like they had done something wrong.
Lidl speaks up about the incident
A Lidl spokesperson made a statement over the incident saying they never intend customers to be dissatisfied while visiting their supermarkets, but that they are committed to the responsible sale of alcohol. The spokesperson said that while the action of their cashier might appear to be over-cautious, they support their employees when using their own judgment in a situation as part of their "Think 25" policy over alcohol sales.
The Lidl spokesperson went on to say that they do not tolerate "abusive behaviour" towards their colleagues under any circumstances.
Lidl is launching a gin bar near you... and you can get two FREE drinks https://t.co/MWZNKOLxkl pic.twitter.com/6wOpzyCLBt

— The Sun (@TheSun) October 9, 2018
Meanwhile, as tweeted by The Sun, Lidl has recently opened a gin bar, which is probably why the couple was attracted to the supermarket in the first place.
Click to read more
and watch the video