Fresh protests erupt in Nepal amid growing humanitarian crisis
Protests erupted in Kathmandu this week over the removal of the word 'secular' from the new constitution.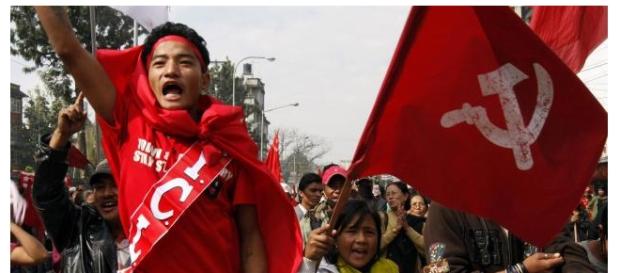 As Nepal emerges from its most devastating natural disaster in 80 years, fresh protests erupted in Kathmandu this week over the removal of the word 'secular' from the new constitution. Over 200 hard-line Maoists were arrested on Friday as protesters looted and torched cars forcing markets and educational institutes to close. The demonstrators claimed the draft constitution does not address the problems of ethnic, gender and racial discrimination thus betraying the principles of the Maoists who fought a decade long civil war which ended in 2006. The Maoists only laid down their weapons and entered mainstream politics after the abolition of the monarchy and the declaration that Nepal was a secular country.
The declaration ended Nepal century's old identity as the only Hindu kingdom. Over 80 percent of Nepal's population is Hindu.
 "The word secularism does not fit. So we are replacing it by another word," UCPN-Maoist chairman Pushpa Kamal Dahal alias Prachanda told the media on Monday. Nepal's coalition government is keen to promulgate its new constitution after almost a decade of disagreements and political wrangling, which many argue has hampered Nepal's development.
Meanwhile, thousands are still living in tent cities throughout Nepal following the deadly earthquakes that struck earlier this year resulting in the deaths of 9,000 people.
UNICEF this week warned that thousands of children and their families have been pushed deeper into poverty and they remain in need of aid.
According to government led assessment, over 1 million people in the worst affected areas have been pushed below the international poverty line of $1.25 per day. According to UNICEF, almost 1,000,000 homes had been destroyed as well as over 32,000 classrooms. 
"The earthquake has exposed the fragility of Nepal's progress in terms of poverty reduction," stated Tomoo Hozumi, UNICEF representative in Nepal. "Looking beyond immediate relief, one of the priorities for UNICEF is to assist the government to phase in a reliable and predictable form of income support for children and their families. Strengthening and expanding the country's social protection system and improving its responsiveness to shocks will contribute to children's well-being and development during normal times and increase their families' ability to cope in case of future disasters." 
The Nepalese government this month claimed it would take $6.6 billion over the next five years to help rebuilt the country.
At least 2.8 milion people, 10% of Nepal's population still need urgent help according to a UN report earlier this month.
 As the rainy season takes hold, access to the hardest to reach and worse affected regions becomes increasingly challenging. The recent earthquake has drastically increased the risk of landslides; this week 30 people died following a landslide in Lumle, near Pokhara.
Political disunity still plagues the disaster-ridden country. Some of the worst affected rural areas are home to the Maoists who are angered at the slow response of the government amid the growing humanitarian crisis. As the government attempts to enshrine the new constitution into law amid increasing tensions and protests, it is essential that the government and the international community do not let up on their aid and redevelopment of some of South Asia's poorest and impoverished communities.   #Strike #Society #Blasting News UK