Greg Eden rewarded with a new contract after silencing the doubters in 2017
Greg Eden has been handed a new three-year deal by Castleford after his sparkling form in 2017.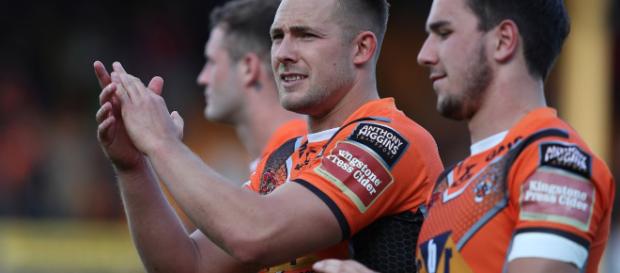 When Greg Eden re-signed for Castleford midway through the 2016 season from NRL side Brisbane Broncos, the overwhelming majority of the Castleford faithful questioned the decision, especially as he was deemed to be the club's new fullback following the departure of Luke Dorn. However, with the capture of the disgraced Zak Hardaker, Eden went into 2017 as one of the Tigers' first-choice wingers. If Castleford fans criticised head coach Daryl Powell's faith in the former Castleford youth player then they were soon eating their words.
2017 was not just a phenomenal year for the club, it was also phenomenal for Eden; with 38 Super League tries and three more in the Challenge Cup, Eden earned a place in the Super League Dream Team and came bitterly close to breaking the try-scoring record of Denny Solomona - whom had set the bar at 40 Super League tries.
And, now with another three years under his belt at the club - to take his contract to the end of 2021 - Eden has the potential to become an England star. But, it has not all been plain sailing for the 27-year-old.
Early career
Greg Eden rose through the Castleford ranks, but played just three games for the Tigers in 2011 before he departed for Huddersfield. There was a mountain of speculation over why Eden chose to leave, namely, that he saw himself as a fullback whilst incoming Castleford boss Ian Millward felt Eden was not good enough to displace Richard Owen at No.1.
Dubbed the "English Billy Slater" by then Giants' head coach Nathan Brown, the pressure on Eden to perform was huge and despite scoring 13 tries in 27 appearances, his one-year stay at Huddersfield was far from exemplary.
Whilst there was never any doubt that Eden was a gifted attacking player, his defensive ability came into question quite often. It was largely for this reason that Huddersfield showed the Castleford-born Eden the door at the end of the 2012 season.
Hull KR, Salford and Brisbane
Eden moved to Hull KR in the winter of 2012. In 2013, the pacy three-quarter scored 14 tries in 22 appearances, though yet again the defensive side to his game attracted much criticism. And, despite scoring 10 tries in 17 games for the Humberside club in 2014, midway through the season he was shipped out to Salford on-loan where he registered a try in 5 games as well as to Newcastle Thunder. For a player once talked of in the same sentence as one of the greatest fullbacks to have ever played the sport, this was quite the comedown.
Incredibly, at the end of 2014, Eden was offered an opportunity to head Down Under and join the Brisbane Broncos with Hull KR releasing him from the last year of his contract. Eden, however, failed to impress Broncos' head coach Wayne Bennett enough to earn a starting NRL berth in 2015 and instead spent the season with the Broncos' feeder team, Wynnum Manly.
And, though Eden registered seven appearances for Brisbane in 2016 - even scoring a memorable length-of-the-field effort in the World Club Challenge against Wigan - all of these appearances came on the wing.
It was therefore a shock to most Castleford fans and perhaps Eden himself that the Tigers boss Daryl Powell felt Eden could replace the outgoing Luke Dorn at fullback. Yet, when Castleford signed Zak Hardaker from rivals Leeds on a season-long loan, Eden was inevitably pushed out to the wing once more.
Perfect fit
Eden's move to the wing however, produced the best possible outcome for himself and the Castleford team. He thrived playing outside Michael Shenton and Luke Gale and, though many of his tries were down to the brilliant work done inside him, Eden still produced some brilliant finishing touches to earn the praise of teammates, rivals and neutrals alike. Eden is a so-called "confidence player" - if he's playing well, the confidence and brilliance is there, but, a few below average games and his form suffers. So, the confidence that ran through the team as a whole rubbed off on the winger too, unsurprisingly therefore, the Castleford faithful saw Eden at his best in 2017.
Not only did Eden excel going forward - helping his teammates out with metre-eating runs out of defence and causing havoc for the opposition with his pace and finishing skills - the improvements he made in his defensive game was like chalk and cheese as compared to previous years. Shaky under the high ball as a fullback, Eden excelled in this department as a winger. In fact, the progress he had made in just under a year was so great that it attracted the attention of England head coach Wayne Bennett - the same coach that had refused to play Eden for most of his two-year stay at Brisbane. In May 2017, Bennett named Eden in his 31-man Elite Performance Squad.
Though Eden has been sidelined for most of the 2018 campaign so far, his return will be a welcome sight amongst the Castleford faithful as the club look to try and rediscover some of their form from last season. Greg Eden was at the heart of Castleford's success in 2017 and it is likely that he will be at the heart of what the Tigers do well until at least the end of 2021. #RugbyLeague #coyf #Castigers