Matt Cook deserves to retire at Castleford
The forward has signed a new one-year deal with the Tigers much to the delight of the Castleford fans.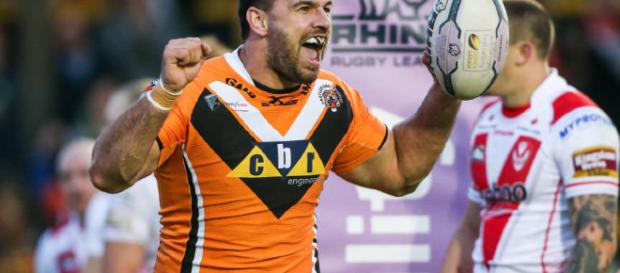 When Matt Cook signed a two-year deal with Castleford in July 2014 - though the contract would not start until the 2015 season - many of the Castleford faithful were questioning the decision to bring him to the club. At the time, the powerful forward was captain of a London Broncos' side that would finish bottom of the Super League in 2014 with just one win from 27 games.
In fact, Warrington-born Cook had been in the capital since 2012, moving there after spending two seasons with Hull KR. Head coach Daryl Powell had seen something in Cook - he had been one of London's bright sparks in what turned out to be an abysmal year for the club.
Powell clearly felt that Cook could bring something extra to the Tigers side, despite being plagued with a losing mentality after a number of years fighting to avoid the wooden spoon at the bottom of Super League.
A revelation
Since he arrived at the end of 2014, Matt Cook has transformed into a very consistent player; he is hard-working, honest and a forward that the Castleford team can always rely on. His experience as captain of the London Broncos did not hinder his progress under Powell and his coaching staff - in fact, it helped him. Cook brought vital leadership qualities with him whilst his determination to play to the best of his ability in a side that was perhaps the worst that Super League has ever seen showed his strength of character.
In his three-and-a-half seasons at the club so far, Cook has been an ever-present, leading from the front with his huge carries and imposing defence.
Cook was rewarded for his stellar form in 2016 with a two-year deal with the option of a third - which the club has now decided to trigger. And, it is thoroughly deserved; the prop/second-rower epitomises the title "Mr. Consistent" - he is solid in every single game he plays and causes the opposition's defence all sorts of problems with his direct and bullocking runs. It will come as no surprise therefore, that Cook is Castleford's greatest average metre maker in the forward pack.
Cook is now 31 years of age, but shows no sign of slowing down. In fact, he is playing some of his best rugby at present and appears to still have many years left in the tank. The former Bradford man has given Castleford a tremendous service in his time at the club so far - Cook has played over 70 games for the Tigers and was a key figure in the Tigers' record-breaking 2017 season - and always gives his all whenever he takes to the field. He does not get his name shouted from the rooftops, but Cook is a crucial player in this Castleford team and, for his commitment to the cause and impeccable character on and off the field, deserves to play out the rest of his days at the club. #RugbyLeague #coyf #Castigers