Mesut Özil reveals Arsenal's failed game plan against Bayern Munich
The German playmaker has opened up about Arsene Wenger's strategy for their woeful defeat against Bayern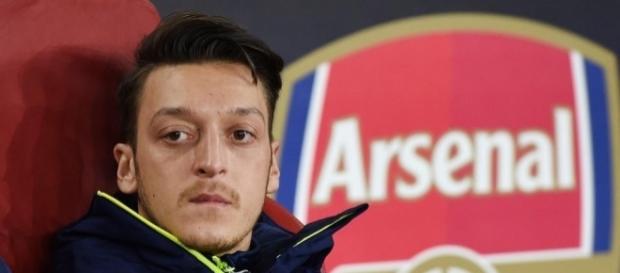 The Gunners have been struggling for form since Christmas, and their humiliating 5:1 defeat at the hands of Bayern Munich at home has been one of their low points this season. In his book 'Gunning for Glory', #Mesut Özil has now revealed that #Arsenal's comprehensive loss against the German football giants has been very hard to deal with. Arsene Wenger previously stated that Özil has been lacking confidence ever since their Champions League thrashing by Bayern. "He was hit hard by us going out in the Champions League - it took some time for him to recover mentally. He has really focused in training in last few weeks," said the 67-year-old manager.
And although the German champions were clearly superior to the Gunners, Özil insists that Wenger proposed a brilliant game plan to his players.
Wenger had clear ideas against Bayern Munich, says Özil
Wenger has often been criticised for his stubbornness and unwillingness to adapt when it comes to football tactics. However, Özil has now explained how the long-serving manager wanted the Gunners to approach the game against the defending German champions. "Our intention was to go all out for Bayern's central defender Mats Hummels; to prevent him from opening up the game which he does so brilliantly. We wanted to force him to play the ball to Javi Martinez, who's also a fine central defender but who isn't great at opening up the game," said Özil in his book. Obviously, their game plan did not pan out, with Arsenal conceding a total of 10 goals at home and away.
The German international called their loss a "devastating" one, which led to "one of the darkest hours in [his] football career." According to Özil, the loss was especially disappointing, because his team "were positively prepared for the game."
Özil's future at Arsenal still shrouded in uncertainty
Özil's contract expires at the end of the next season, and he has yet to put pen to paper on a new deal. The German international is understood to be waiting on Wenger's decision on his future plans, as he enjoys playing under the Frenchman's management. In a recent interview with Sky Sports, Özil insisted that he was completely focused on helping his team get back on track and claimed that contract talks would resume in the summer. On the other hand, his teammate Alexis Sanchez is looking increasingly likely to leave the Gunners, and Metro has now reported that the Chilean rejected a deal worth £300,000-a-week. Meanwhile, Özil is reportedly running out of options, as only Fenerbahce and clubs from China have shown interest in signing him from Arsenal. #bayern munich