Hector Bellerin is 'happy' about Arsenal's poor run of form for one reason
The 22-year-old right-back insists that Arsenal's slump in form can only help him grow stronger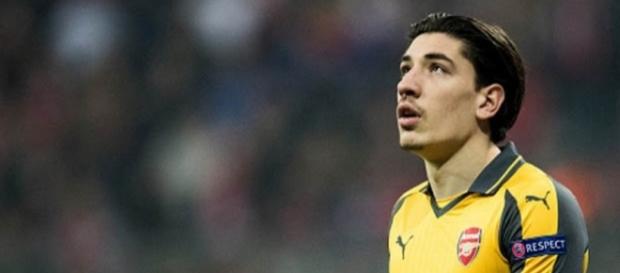 One day after #Arsenal's surprising 3:0 defeat at the hands of Crystal Palace, Hector Bellerin posted a photo of him jogging on the beach to social media. This photo was accompanied by the following caption: "Morning run to recover from a difficult night."
It was indeed a difficult night for the Gunners, especially for the 22-year-old Spaniard, who was booed and verbally abused by the fans during the match. A large portion of disgruntled Arsenal fans was heard chanting "You're not fit to wear the shirt" at Bellerin as the right-back came to collect the ball from the stands. In all fairness, the supporters probably did not mean to single out the Spanish international, and Bellerin just happened to be in the wrong place at the wrong time.
In an interview with Arsenal Player, the Spaniard has now given his take on the Gunners' dismal run of form.
Rough patch will only make him stronger, says Bellerin
While Bellerin admitted that Arsenal have gone through bad patches in previous seasons, the full-back also conceded that he has not experienced such a massive slump in form before. However, Bellerin further claimed that he was "happy" because he believes that the current dip in form will only help him grow stronger. "Obviously, it's wrong to say it in this way, but in a way, I'm happy that it's happening to me, because I'm learning a lot from what's happening outside the pitch. You need to learn how to deal with people saying bad things about you." The Spanish international further insisted that "these things would only make [him] stronger" and that he wasn't the type of player that would be destroyed by criticism.
Speaking about the aforementioned Facebook post, Bellerin revealed that the Arsenal players were given a few days off after their 3:0 defeat against Crystal Palace. The 22-year-old also explained that he went to the beach to "clear [his] mind" and regain focus.
Wenger admits that Bellerin is not back at 100%
Bellerin has been struggling for form since his ankle injury saw him sidelined for 5 weeks back in November. Many Arsenal supporters were quick to point out this drop in form, and Arsene Wenger has also admitted that Bellerin "has not come back to his level" since his injury. Speaking about Bellerin's defensive discipline, the Arsenal boss said: "You get bad habits and you forget that your job first is to defend and win challenges because you protect yourself a little bit." The Frenchman, however, seemed optimistic and insisted that all his players, including Bellerin, were focused and committed to getting the team back on track. #Hector Bellerin #Premier League