Arsene Wenger linked with Paris Saint-German
Paris Saint-Germain are reportedly interested in the Arsenal boss and have offered him a two-year contract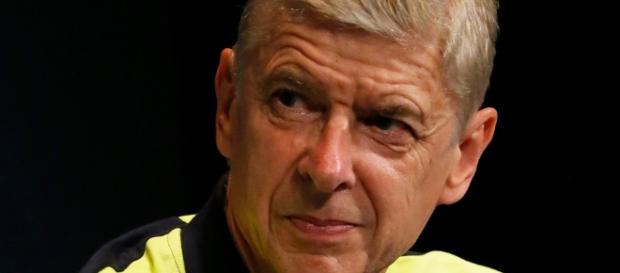 #arsene wenger's future has been the subject of much speculation recently. The Frenchman is #Arsenal's longest-serving manager and has also been their most successful one as of now. In his 20 years at the North London club, Wenger has won 3 Premier League titles, 6 FA Cups, and 6 Community Shields. However, Arsenal has failed to win the league since the Invincibles were rewarded with a golden trophy for their achievement of going an entire season unbeaten.
This season, the Gunners are also looking very unlikely to win a major honour after a dismal run of form saw them drop to 6th in the league and knocked out of the Champions League.
With the "Wenger Out" brigade growing in size, Arsene Wenger is undoubtedly under immense pressure. Now, Paris Saint-Germain have reportedly offered the Arsenal boss an escape route, as they consider him as a potential replacement for current PSG manager Unai Emery.
PSG interested in Arsene Wenger
Unai Emery, who moved from Sevilla to PSG last summer, was hired with the intention of adding a Champions League trophy to PSG's much-decorated trophy cabinet. Considering that the Spaniard had previously won three consecutive Europa League titles with Sevilla, Emery was undeniably a rational choice to replace Laurent Blanc. However, PSG has failed to flourish under their new manager, and are currently sitting in second place in Ligue 1.
They also suffered a controversial 6:1 defeat at the hands of Barcelona, which saw them knocked out of the Champions League in March.
After only 1 year in the French capital, Emery's time at PSG is seemingly coming to a premature close with the owners reportedly interested in Arsene Wenger as a potential replacement. Various sources have claimed that the Frenchman has been offered a two-year contract to take over at PSG next season. Wenger, who has recently claimed that his preference will always be to remain at Arsenal, has now officially responded to these reports.
Wenger breaks silence over PSG contract claim
Arsene Wenger has officially denied reports linking him to Paris Saint-Germain. Speaking to beIN Sports regarding these claims, the Frenchman said: "It is a false rumor, that is what you call 'fake news'. I formally deny it." Previously, the Borussia Dortmund manager, Thomas Tuchel, was also linked with a move to the Emirates. These reports were also denied by both Arsenal and Tuchel himself. After Arsenal's latest defeat at the Hawthorns, Wenger has stated that he would be announcing his future plans to the public "very soon". With various sources claiming that Wenger has already signed a contract extension, it looks increasingly likely that the Arsenal boss will remain at the North London club for at least another year. #Paris Saint Germain